Recruiting: Q-and-A with five-star PF Joey Hauser
Hang on for a minute...we're trying to find some more stories you might like.
Recently coming off his third state title in his three years of high school basketball, five-star power forward and top uncommitted 2018 in-state prospect Joey Hauser discussed his recruitment with the Wire and other reporters.
Q: Which schools have reached out to you the most so far?
Hauser: Michigan State, Virginia, Wisconsin and Marquette. That's probably the top schools right now.
Q: At what point are you going to start taking official visits?
Hauser: Probably after the school year, so like in June. That's probably when I'll start.
Q: How soon are you going to narrow down your list of schools?
Hauser: I'm not really sure. I'm just going to try to take it one step at a time. I might not really make that public.
Q: How much interest has Marquette been showing you?
Hauser: They've shown me a lot of interest just because my brother's going there, so I know a lot about them and what they're about and I can learn from them. I'm really close with Marquette and their coaching staff.
Q: Which coaches from Marquette have been recruiting you?
Hauser: The whole staff really. I know everyone on the staff. Coach Nelson has been talking to me a lot and coach Wojo.
Q: Have you been getting to know Markus Howard better from his trips to Stevens Point?
Hauser: He's really good friends with my brother. They're really tight, so if my brother comes up for a weekend, he'll come too. Me and Markus are really good friends.
Q: What has Marquette been telling you?
Hauser: They've been telling me to just keep improving, (Marquette)'s the right fit for me and how cool it would be to play with my brother.
Hauser later told Rivals he is "not trying to let (the fact that Sam is already there) really affect my decisions."
Hauser also discussed his recruitment regarding other schools, including Wisconsin and Duke.
He said that his visit to Wisconsin Feb. 19 "went well" and that it was "an awesome game."
One aspect of Wisconsin's recruitment of Hauser that may not have as big of an impact as initially anticipated is fellow 2018 in-state star Tyler Herro, who committed to Wisconsin last September.
"We haven't really talked that much," Hauser said. "But here and there, I'll hear from him."
The Stevens Point, Wisconsin, star has recently picked up interest from Duke.
"They haven't shown a ton of interest," Hauser said. "They're just trying to get to know me and maybe set up a visit sometime soon, but otherwise that's kind of it."
Although Hauser did not mention Iowa as one of the schools reaching out to him the most, Iowa Barnstormers teammate Joe Wieskamp, an Iowa commit, has "talked about Iowa a little bit."

About the Writer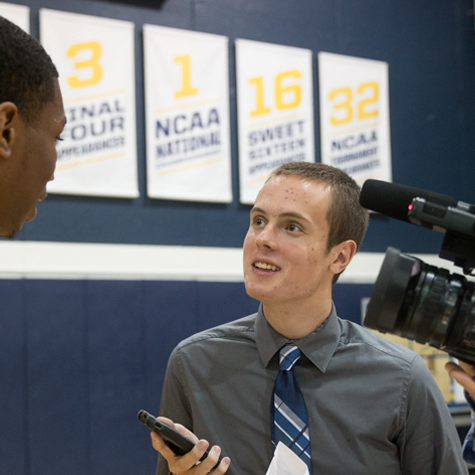 John Steppe, Executive Sports Editor
John Steppe is the executive sports editor for the Marquette Wire. He is a junior majoring in journalism and double-minoring in digital media and Spanish....