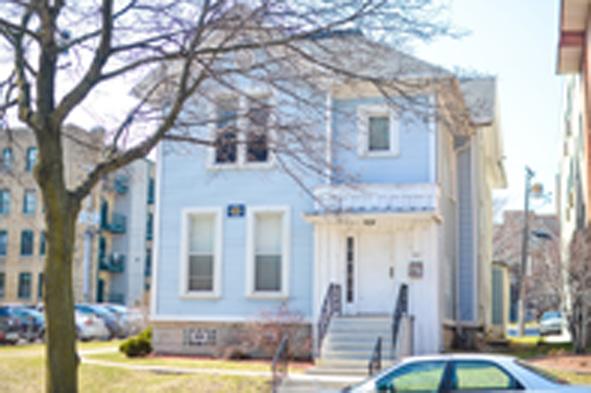 When the ceiling of 821 N. 17th St. collapsed into its kitchen, flooding the first floor, alumni Andrew Lehtinen was standing close enough to watch it crumble.
"It started as a small leak from the ceiling in the kitchen, and then it all came down," Lehtinen said. "There was something wrong with a pipe installed when they put in the new bathtub."
The incident occurred in fall 2015, soon after plumbers installed a new bathtub in the bathroom directly above the kitchen.
Lehtinen assumed the incident was the reason he and his six roommates faced deductions or withholdings on their $500 security deposits on top of  maintenance and cleaning fees upon move-out. Lehtinen said they expected a rent discount due to the incident, though they never expressed that to their landlord, Dave Hoffman.
"We anticipated something fishy," Lehtinen said. "But we didn't think we would get charged on top of our deposits."
Lehtinen's experience might sound familiar to first-time renters who have complaints about landlords, property conditions and rent prices as they pay around $500 to $800 per month for a 100-year-old property after signing an often-confusing lease agreement. 
On the surface of some of these complaints and stories, it looks like Marquette's off-campus properties are falling apart at the hands of unreliable landlords. The Marquette Wire spoke with 13 off-campus renters about their housing troubles and all but Lehtinen refused to go on the record for fear of negative reactions from their landlords.
Hoffman, owner and operator of University Investments 2000 LLC, owns four off-campus properties near Marquette and multiple other properties around Milwaukee and leased the 17th Street property to Lehtinen and his roommates. Hoffman said he takes full responsibility for the 2015 incident.
"That was my problem," he said. "(The tenants) had nothing to do with the pipe breaking. Pipes break, it happens."
The property's water was turned off for a day, plumbers fixed the pipe in a week and contractors eventually repaired the ceiling and installed new lights.
Hoffman said the ceiling incident was not why the tenants faced withholdings and additional fees. He charged the tenants for lease violations and property damage occurring throughout the leasing period. The violations included cigarette smoke damage, failure to clean the stove and refrigerator, remaining garbage in the house and late move-out.   
According to Wisconsin state law, landlords cannot withhold security deposits for "any costs related to 'normal wear and tear.'" While a landlord cannot charge tenants for maintenance items like carpet cleaning or painting, Hoffman said he considered the violations and damage to the 17th Street property to be beyond that level, prompting the withholdings and fees.
"We had 50 hours worth of cleaning in that property, and that is not normal," Hoffman said.
He also said security deposit return is based on the individual tenant and the condition of his or her personal living space. When there are deductions, some tenants owe more money than others, and some owe nothing at all.
Lehtinen moved out of the property almost a year ago but said he still disagrees with the charges.
"We cleaned the house pretty well," Lehtinen said. "He charged us for some things, and I suppose he had the right to, but that should've gone to our security deposits, not an additional charge."
Marquette's Office of University Apartments & Off-Campus Student Services estimates receiving less than 10 complaints per year about off-campus housing. The office oversees both on-campus and off-campus housing to help students develop relationships with landlords, decipher lease agreements and find other tenant resources.
Lehtinen did not voice his complaints or seek consultation with UAOCSS at all during his leasing period. He said he was not aware the university has an office that assists with off-campus housing issues.
"We want to increase our visibility so students know we are here," Kelsey Stockton, UAOCSS's assistant director, said. "It's helpful for us to know of significant concerns with properties so that we can be informed in our communication with owners and managers and advocate for neighborhood improvements and positive tenant experiences."
Landlord accountability
The Good Neighbor Designation Program, implemented by Marquette University Student Government in 2015, is another way the university aims to hold its off-campus property management companies accountable. The designation focuses on landlord responsibility and setting higher property standards for landlords.
Receiving the optional, year-long designation means a property aligns with university-approved levels of safety, security and maintenance.
Landlords who apply for the designation must meet the program's 23 criteria, which include a live-in tenant manager for properties housing over 20 tenants; at least one fire extinguisher on each floor; functioning smoke alarms, a fire alarm system, fire extinguishers and carbon monoxide detectors; no graffiti anywhere on the property; a maintenance request system available 24 hours per day; full compliance with City of Milwaukee property codes and regulations; completion of the city's Landlord Training; and a copy of the lease on file with Marquette.
A total of seven property management companies and 30 properties currently hold the designation, which is in its third year. They include Marquette I & II Apartments, nine properties operated by Cedar Square, ten properties operated by Tristan Estates, one property operated by Select Property Group, Marquette's five off-campus apartments, The Ivy on Fourteenth, The Marq and Saint James Court.
"I don't know if students pay attention to (the Good Neighbor Designation), but if they do, we want to be on that list," Sal Bando, co-owner of Cedar Square LLC, said.  "However, (the designation) does not require anything out of the ordinary for what we already do."
The initiative is simply raising the bar for off-campus housing.
"With the Good Neighbor Designation, certain properties have set students' expectations higher when choosing a place to live," Hannah Thiry, Marquette University Student Government Outreach Vice President, said.  
The Good Neighbor Designation focuses on landlord accountability, but another MUSG program indicates the burden is not solely on the landlord.
More than one side
Good Tenant Training is an educational program that addresses the do's and don'ts of property leasing. The program ran two sessions at the beginning of the fall semester that covered topics from lease agreements to neighborhood safety. Fifty-three students attended the September training, Thiry said.
"Students don't always understand everything in the lease," Thiry said. "It is important to understand what you are being legally bound to."
Thiry believes lease confusion is a major issue for students living off-campus. She's not alone in her opinion.
"It takes seven pages of legal paper to tell the tenant that as long as they pay rent and don't trash the place, they are fine," Bando said.
Tristan Estates LLC, another off-campus property management company, involves students' parents during the signing process.
"We often email unsigned leases to parents so they can feel secure in reviewing the state-approved and Marquette-approved documents," Julia Herro, the company's financial manager, said. "We will then walk the student through all the documents that are signed, their ramifications, the student's responsibilities and our responsibilities."
Bando, Hoffman and Herro said they review the lease's main points with new tenants before their signing, but the agreement also requires tenant responsibility – and that is what MUSG is trying to promote.
Strained landlord-tenant communication
UAOCSS recommends students address conflicts with their landlords first, and landlords don't disagree.
"Complaints are very specific to the individual and must be tailored to the individual," Herro said. "I find consistent, honest communication to be the best way to handle issues, regardless of if they are with Tristan Estates or not."
The property management company is available by phone 24 hours a day, but Herro said tenants sometimes just don't reach out when there is an issue, like when there was a running toilet that kept a tenant awake at night and increased the water bill for two months.
Bando also prefers tenants first present the issue with Cedar Square.
"If students have complaints, we encourage them to speak to us first and foremost," Bando said. "There is nothing that we can't handle or address."
The company operates 280 off-campus units and works with over 500 tenants. Bando owns properties as new as the new Modern Living apartments being constructed on 15th Street and Kilbourn Avenue and as old as Row House Apartments on 14th Street and Kilbourn Avenue, built in the late 1800s.
Bando said he informs tenants moving into older homes with minor property issues. These issues, like drafty windows, come with the territory.
Rushing to rent
Thiry said MUSG created both 2015 programs partly to motivate students to slow the housing search and signing process – another problem when transitioning into off-campus housing.
Stockton agreed.
"The rush to find housing is the toughest thing we will always compete against," Stockton said. "Students feel like they need to start searching even as a freshman."
The fast-paced signing process starts at the beginning of students' sophomore and junior years, and sometimes before.
"When I was looking for housing in September, I was told that I literally needed to find a place before the end of September to be guaranteed a place to live for junior year," Jenn Potocek, a sophomore in the College of Nursing, said. "Every year it seems to be more and more rushed."
Potocek and her roommates signed the lease agreement and made a down payment for their apartment the same day they toured the property. She said she felt pressure to sign immediately because she didn't know if other students were also looking at the place.
Students signing lease agreements before they are completely ready may be another cause for complaints and negative property experiences later in their leasing periods.
By the end of this school year, MUSG plans to launch and oversee Marquette Renter Reviews, a student-run property review website that will candidly inform potential tenants about drafty windows or aged kitchen appliances sometimes found in campus properties. The platform will allow students to share their renting experiences and choose properties based on peer reviews.
Ideally, it could be used in tandem with RentCollegePads.com, a site that Marquette recommends for finding off-campus property information and connecting with landlords. Students would search for properties using Rent College Pads while seeing other renters' opinions on the new review site, Thiry said.  
But despite a growing number of resources and strategies, the onus remains on tenants to understand their rights and advocate for themselves.
Hoffman said that a functional group of tenants have designated chores for which everyone is responsible. Without such a system, the property can fall apart.
"It all comes down to student responsibility," Hoffman said. "It is not my job to keep the garbage area clean."
Story continues below advertisement