EDITORIAL: Whelton's executive order on housing vexes students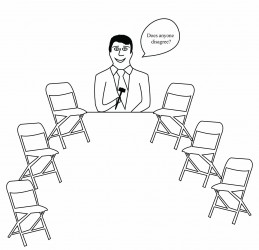 Use of executive action has been debated under both President Barack Obama and his predecessor President George W. Bush. Whether or not citizens agree with using executive orders, there is still always a compelling interest involved. Even with something with the polarizing effect of Obama's executive order on immigration, it is clear citizens cared about the issues at hand.
Marquette Student Government is not the federal government, and MUSG President Kyle Whelton is not Obama, but the organization often tries to model itself after a more official government. A recent executive order aimed to improve the experience for students entering apartment renter-ship for the first time, yet the action does not come after the intense urging of students.
Whelton issued an executive order March 16 establishing the Good Tenant Program and Good Neighbor Designation. The executive order calls "The Good Tenant Program" a "comprehensive educational program for student tenants to ensure that they are prepared for all of the responsibilities that come with renting a property."
The "comprehensive" and apparently necessary training included in the Good Tenant Program training features "local law and ordinances, how to set up utilities, tips on hosting responsible parties, how to write checks, Milwaukee garbage procedures, what it means to sign a lease, what a security deposit is used for, what joint and several liability means, Milwaukee parking regulations, safety and security concerns."
These are all important things you must know before living in an apartment or house, but unless Whelton and others in MUSG know something the rest of us don't, students have never been vocal about needing to be officially trained on them.
But, with the implementation of this training, the Office of University Apartments and Off-Campus Student Services would then "maintain a list of all the students who have completed the Good Tenant Program and shall share this list with all property owners and managers who have agreed to participate in the program." So students who do not need the training either will not be on the list given to property owners and managers, or they will take training they do not need if they desire to receive placement on said list.
The other part of the executive order, the Good Neighbor Designation Program, is designed to "incentivize good property management." It is said to be "the product of long-term strategic thinking about how students at Marquette can engage and recognize exemplary property owners in our neighborhood." This is a worthwhile end, and Whelton acknowledges in the executive order "one of the most stressful endeavors for students at Marquette is seeking an apartment for the first time in their lives."
This is absolutely true and something students actually have been concerned about, as the Tribune has covered the stress related to finding an apartment in the past. Factors included for property owners to receive a Good Neighbor Designation will include things related to safety, building maintenance and cleanliness, which are all important to know before selecting an apartment. Receiving and compiling this information from property owners will be an important resource for students.
However, with the chaos of finding and apartment or house as a rising junior already knows, it is then puzzling why an executive order was needed instead of a legislative solution from the senate. It is unclear if MUSG was tone deaf on the issue, could not come to an agreement or if Whelton was impatient and preferred to act unilaterally.
The executive order issued this week is not polarizing like we may have seen on the national level, but it certainly is a head-scratcher on multiple levels.