Peele captures horror of everyday racism
'Get Out' sheds light on overlooked details of daily life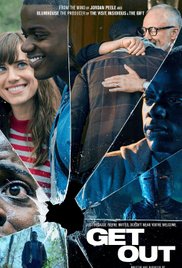 Warning: spoilers
It is easy to watch a horror movie about ghosts or deranged serial killers. When the movie ends, one can say, "Well that was scary, but it is only a movie and that will never actually happen to me."
With "Get Out," the movie ends and unfortunately the horror of racism does not. This is the scary world we live in, and Jordan Peele puts it on display without flaw.
It's no wonder there has been criticism for "Get Out." Directors are likely jealous of the masterpiece he made. Peele found a way to use magnificent attention to detail to make a horror movie that is not cheesy or predictable and is, in fact, very scary. It is more than just scary. It's real.
The main characters are an interracial couple: Chris, African-American and Rose, white. The premise of the movie involves Chris going to meet Rose's family for the first time. Everything starts out okay until they are on their way to Rose's parents' house. The couple hits a deer, and we see the first subtle signs that something is a little bit off. Chris is very upset but Rose shows no emotion for the dead animal.
The police come to the scene to check if everything is okay. The officer asks to see Chris' license, and Rose immediately refuses. She appears to be standing up for Chris in front of the apparently biased cop, but later it is revealed that Rose's reason for keeping the police from seeing his license is twisted. We find out that she wants no trace of the two of them being together. These first two moments foreshadow but they do not give anything major away and are likely not even picked up by many viewers.
Peele's attention to detail here is brilliant and it continues throughout the movie.
When Chris revolts and kills Rose's father, Dean, he uses a mounted deer head to stab him. This could mean nothing, but it is possible that this was intended to send a message.
Earlier in the film, Dean expresses his hatred for deer and bucks. In the mid-to-late 1800s the term "black buck" was a racial slur aimed toward African-American men who refused to conform to the unjust ways of the white man. The fact that Dean is killed with a massive buck head feels intentional, and satisfyingly, it is Dean's own racism and ignorance that kills him in this ironic way.
More impressively, there is a third and even stronger example of Peele's attention to detail when Rose is in her bed, oblivious to Chris' attack on her family downstairs. She is searching for possible future victims online as she types in "top NCAA prospects" and gets a result of many strong African-American men. While doing this, the camera pans to a bedside table next to Rose which has a bowl of fruit loops without milk and a glass of milk with a straw. The milk and cereal are separated and it seems that Peele's attention to detail is in play yet again. This shows that Rose is not interested in mixing anything white with anything "colored." She sips the glass of milk and takes a handful of fruit loops, but she never mixes the two.
"Get Out" is unlike other horror films. It is not only terrifying; it is real. This is not to say that this is a true story, but the scare factor has a grip on reality.
Leave a Comment