Henry Ellenson makes return to Bradley Center as a Piston
The last time Henry Ellenson played basketball at the Bradley Center, he had 10 points and 10 rebounds in a one-point victory against Georgetown. Ellenson made his return to the Bradley Center Monday night as a member of the Detroit Pistons, and this time he had a much quieter outing. He was one of the team's inactives, sitting on the bench in a suit.
He didn't let that ruin his trip.
"It feels great to be back at the BMO," Ellenson said. "It's exciting to get back. Today I went to Marquette's campus to see my (former) teammates and stuff like that, (and) see some of my friends. It's good to be back in Milwaukee."
Ellenson hasn't seen much action in his first season with the Pistons, appearing in just 14 games. Detroit has a loaded front court with Andre Drummond, Aron Baynes, Boban Marjanovic, Marcus Morris, Tobias Harris and Jon Leuer that has allowed Ellenson to develop outside of games.
"I feel like it's been a good year for me," Ellenson said. "I've been staying focused on just taking it day to day and improving. That's been my role this year, just learning, learning from these other guys. I feel like it's gone good. My game has improved a lot."
When Pistons Head Coach Stan Van Gundy selected the 6-foot-11 big man with the 18th overall pick last summer, he said the plan was to give Ellenson time to develop before throwing him into the fire.
"Offensively he's really good," Van Gundy said. "He's skilled, he can put it on the floor, he can create a shot, he can shoot the ball. So it's his strength and his defense (he has to improve). In a lot of ways I think it's harder for the younger big guys because they're playing against big strong men and he's got some time to go but we're happy with his development. We think he's going to be a really, really good player."
Not playing has been an adjustment for the coveted prospect.
"It's not easy. I'm used to playing a lot," Ellenson said. "I did in high school, did it here at Marquette, so it's something different for me. It's a different challenge. I can't just focus on the short-term stuff."
But Ellenson hasn't just been relegated to the bench. He's scoring 18.4 points per game in his 13 appearances with Detroit's Development League team, the Grand Rapids Drive.
"The biggest thing when I go down there, the coaches just tell me to guard and really focus on playing defense because that's a big thing," Ellenson said."Everyone knows I can score, that's what I've always done so it's just a matter of guarding a smaller four in the D-League. A lot of those guys are pretty much wings. It's just staying low in the stance, staying locked in, knowing where I'm supposed to be."
"He's taken good advantage of that," Van Gundy said. "He understands the purpose of it. I think he's approached it the right way and I think he's enjoyed it."
One of the biggest changes for Ellenson has been living by himself.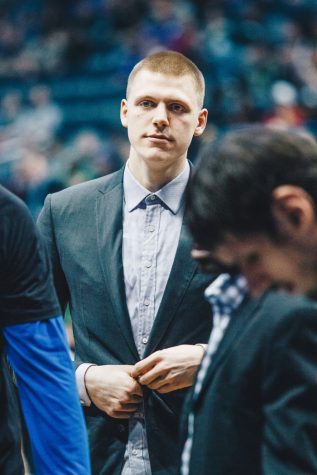 "Detroit's been a good city to me but it's the first (time on my own)," Ellenson said. "I don't have my roommate Hainey (Haanif Cheatham). We don't get any more Sunday cleaning days. That's all on me now so I take all the chores."
Detroit could be rather lonely for a 20-year-old from Rice Lake who works every day and travels all over the country, but fortunately for Ellenson, his bother Wally isn't too far away. The former Marquette track and field star and basketball player is playing for the Windsor Express of the National Basketball League of Canada.
"That's only 40 minutes away, it's not far at all," Ellenson said. "It's been great having him around. Any time we both have off days we hang out, which has been great. It's been a good transition. My family has been there to help me out through the whole way."
Less than a year into his NBA career, there's still a long way to go for Ellenson, but he plans on sticking around.
"I'm thinking big things, I want to be here for a while," Ellenson said. "I want to be great."
Leave a Comment