Study abroad adds new online service learning opportunities
The Office of International Education is offering new opportunities in service learning for the spring semester.
OIE developed a new online course for students studying abroad. Service learning involves a combination of instruction and volunteer charity work and is offered at many study abroad locations. Participants can connect to students in different countries to discuss how social issues in their respective country compare.
Jessica Lothman, a study abroad coordinator, said the program is part of an attempt to further develop service learning around the globe. "Engaging in service is definitely global," Lothman said. "Students can enroll in an online course while they're abroad that facilitates reflection on global issues through a cultural lens. They can also compare and discuss their experiences in one country with students in another country."
The online course was developed in collaboration with Marquette's Service Learning Program and Center for Teaching and Learning. The course counts for three credits and also includes domestic students.
"There's a lot of social justice issues that are global and students will often go abroad and see those issues, but not want to recognize them in their own backyard," Lothman said. "Making that local-global connection and seeing what one individual can do locally to impact global issues is something our office is really committed to."
186 Marquette students are studying abroad this semester, an increase from 101 students that studied abroad during the fall 2016 semester. Lothman said the numbers are very consistent with previous years, which have also seen an increase in students during spring semester.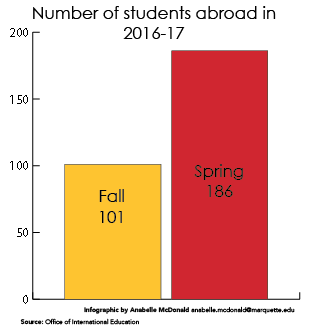 Katherine Berlin, a senior in the College of Arts & Sciences, said she saw this semester as a good opportunity to study abroad in Chile. 
Berlin chose a Spanish-speaking country because of prior education in Spanish and an interest in Latin America. She is taking a required Spanish class and is considering service learning opportunities, but won't know her schedule until she arrives. She said she hopes to integrate herself in Chilean culture while there.
"I really hope to create a life for myself there, (and) that I would become part of the host culture instead of feeling like a tourist," Berlin said.
She said that while her family is supportive, there's a level of nervousness that comes with spending a long period out of the country.
"My mom in particular is concerned about how I'm going to be spending five months away," Berlin said. "My family is planning on visiting too, which I think will be a good experience. It would be hard to go five months without seeing any family."
Berlin is also experiencing a less traditional location than many Marquette study abroad students, who often stick to locations in Europe and Australia. "Whenever students go to Latin America, Asia, the Middle East or Africa, I think any of those locations are nontraditional and kind of exciting for students to think outside the box," Lothman said.
Grace Gregg, a student assistant in the Office of International Education and senior in the College of Communication, has studied abroad twice. She studied in Milan, Italy as a sophomore and Thailand during her junior year. Gregg said students should push themselves to be active while studying abroad.
"You're going to a new country, you're going to want to savor every moment," Gregg said. "Don't just sit in your apartment. Definitely take full advantage of all your days."
The Office of International Education will host a study abroad fair Jan. 27 for students interested in learning about opportunities for summer or fall 2017 programs.
Leave a Comment