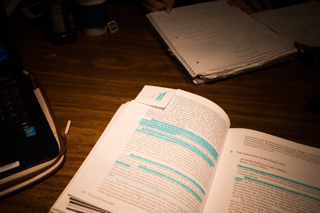 Papers, projects and exams fill up calendars this time of the year. Finals week is upon students at Marquette, and some students are in search of a solid study location.
In no particular order, here are students' five favorite spots to study on campus.
1. Engineering Hall
E-Hall represents one of the coolest places on campus to study, and can be accessed by all engineering students. With a very modern interior, it sometimes gives the impression of a hotel lobby, or somewhere else one would rather be.
"I like E-Hall because you can be louder than in the library, but it's not like the Bridge where it's so many people in a really tight space and it gets distracting," Steven Krum, a sophomore in the College of Engineering, said. "It's also a new building with a different feel to it, and it's very clean all the time."
2. Raynor Memorial Libraries
While the library can be a bit boring at times, it is a classic choice. Sometimes boring and quiet is exactly what's needed to cram in those last bits of information.
"If I'm looking to get away and get something done, that's where I'll go," said Wyatt Stokesberry, a sophomore in the College of Business Administration. "It's a really nice and quiet place to study."
While patrons need to keep a low volume level to avoid dirty glares from fellow students, the massive library comes with a large range of places to study. There are comfy chairs to lounge in, and an endless sea of tables. There are also rooms where students can meet and talk for group work.
3. Dorm or apartment
It's so simple. There's no need to walk across campus when reading books in bed is an option. If staying disciplined enough to avoid distractions comes easily, sometimes it's best to just grind through an assignment on the spot in the comfort of home.
"I actually like doing homework in my room the best," Danielle Gill, a sophomore in the College of Business Administration, said. "It helps me feel focused, I think just because I'm so comfortable in there. If I leave to study somewhere else, it's hard for me to get as relaxed and into a good homework mindset."
4. The Brew
The Brew provides a nice alternative and is a casual cafe study location. It is a favorite meet-up spot for group projects, and students can buy food while studying.
"I like that you can get food right there, and you're also allowed to chat with your friends without it ever becoming too distracting," Jessica Kathe, a junior in the College of Health Sciences, said.
5. Starbucks
Starbucks offers a similar laid-back study sanctuary. Walk by the front windows of the classic coffee shop to see hoards of students nestling drinks with complicated names and class textbooks. Much like the Brew, Starbucks provides a blend of tasty food and a friendly study atmosphere, one that doesn't get too loud but also lets students socialize.
"There's good coffee and there's a lot of conversation going on also, which I think can make for a good study environment," Nick Malik, a sophomore in the College of Communication, said. "There's also a lot of space and tables for multiple people."