Vice president of student affairs shares thoughts on retirement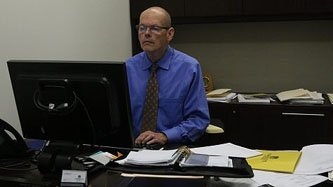 In 1993, Jim McMahon interviewed for a job for the last time in his career.
"There are times when you know something is right. But when I came over the lake and saw the Marquette skyline, I had a visceral reaction," he said.  "I knew I had made the right choice."
Now, the associate vice president of student affairs has announced his retirement after working for over 20 years to develop residence life.
"It's just time," McMahon said. "I've been working in student affairs for 40 years now."
One of McMahon's recent accomplishments was creating a program to help first-year students understand the transition from high school to college. The first program ran during this fall's 2016 semester.
"We are starting to get student evaluations back and we're learning a lot," he said. "With a group of 10 faculty, staff and one graduate student, there are a bunch of ideas on how things should be done."
McMahon grew up in Buffalo, New York, and earned his bachelor's degree at State University of New York at Cortland. He then moved on to Bowling Green State University where he earned his master's degree while working as a housing director and where he met his wife Janet. McMahon wrapped up his education at the University of South Carolina by earning his Ph.D.
Despite his retirement, McMahon still wants to continue learning.
"I will be taking an English class in the spring at Marquette," he said. "I studied English during my undergrad and I would like to take another course on it."
McMahon has two sons who have both graduated from Marquette. He and his family are all season ticket holders for Marquette men's basketball and will continue attending games during his retirement.
As for trips and other plans for retirement, McMahon is taking a brief pause to take care of his mother-in-law.
"The quality of the students at Marquette is just remarkable," he said. "It's just remarkable. I'm amazed at what our students do."
He will be the guest of honor at an event for his retirement in the Alumni Memorial Union Dec. 7.
"I'm excited," he said. "It gives me a chance to say goodbye to people I have worked with. Some I haven't seen in more than 12 years."