The American Society for the Defense of Tradition, Family and Property protested on Marquette's campus Oct. 27 against Marquette's "gender theory," how individuals become gendered in society, in hopes to foster a debate and discussion.
TFP began protesting around 10 a.m. after a phone call from a student, Enrique Tejada III, coordinator of LGBTQ+ and the Resource Center, began to rally participants to counter protest.
The organization, based in Hanover, Pennsylvania, travels to various universities across the country to discuss social issues. TFP previously visited the university regarding traditional marriage.
"We're not out here to attack transgendered people, but to discuss gender theory," said Bentley Hatchett, a volunteer of TFP student action. "Marquette is a Catholic University and they are going against Catholic statements."
Hatchett explained while Pope Francis is lenient, he still believes gender theory is from hell and Marquette is violating Catholic values with its support of gender theory with its gender neutral bathrooms and its resource center.
"There is a huge promotion that go against those values," Hatchett said. "They take tax exempt status. If you're going to call yourself something, you should be that and represent your values and not misrepresent."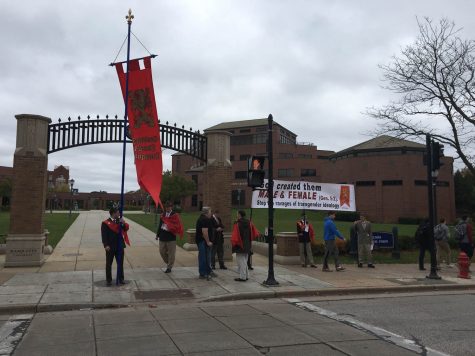 "We're here to argue the theory as it lines up but not from a personal stance," Hatchett said. "Everything we have is argumentative. It's principle not personal."
Joenny Lopez Cuevas, a sophomore in the College of Arts & Sciences, is frequently in the LGBTQ+ and intercultural resource center and joined the protest as soon as she saw it leaving class.
"We are counter protesting because we believe all lives matter," Lopez Cuevas said. "My genitals do not define my gender."
Tejada III explained the resource center hopes to be a place of love, compassion and care for all identities.
"We support any identity but especially those that identity within the LGBTQ+ and community," Tejada III said. "We align with Christ-like ideals of respect, support and compassion and we hope we can be a light for the community. We are charged to be the difference and we want to be that everyday for faculty, staff and students."
Shannon Skaistis and Emily Gaber are both graduate students hoping to become counselors and participated in the protest in hopes to help colleagues and other clinicians work affirmatively with transgenders.
"Our mission is to respect every individual regardless of how they identify," Gaber said.
Dr. William Welburn, Executive Director of the Office of Institutional Diversity and Inclusion, explained before people come to campus, they should read the University's guiding values and its emphasis on respect.
"If you're going to come to our university, you should respect our position on human dignity and what we teach our students, " Welburn said.
Over 15 people participated in the counter protest. Provost Dan Myers was one of many who signed his name on the sign saying "Transphobia, Biphobia, and Homophobia are not Marquette values." TFP had about 10 people assisting in their protest.