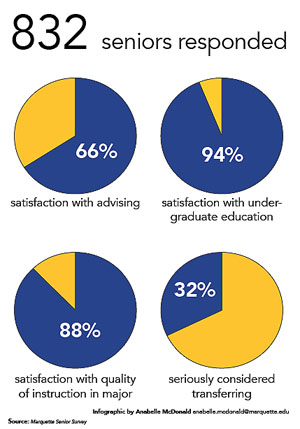 Marquette's senior survey found the satisfaction with academic advising on campus sits at 66 percent—the same percentage as last year's survey.
Sharron Ronco, Marquette's assessment director, encourages senior students to take the survey because the information gathered in the survey is sent to offices on campus so they can improve.
"The purpose of this survey is to get student perspective," Ronco said. "We constantly look for ways we can get better."
Some students, like Lindsey Scanlan, a freshman in the College of Arts & Sciences, are satisfied with the advising program.  She said her adviser has helped in place her on a pre-pharmacy path.
Scanlan said she has met with her adviser twice, and her adviser called her multiple times during the summer as well.
"She made my job a lot easier," Scanlan said.
Sebastian Becerra, a junior in the College of Communication, also has had a good experience with his adviser, but is not surprised by the low satisfaction rate.
"I've heard from students that their advisers don't really care about advising and just tell them what classes to take without giving them many options," he said. "Some advisers just don't provide any good suggestions or alternative classes for students if they want to try something different," he said.
Anne Deahl, associate vice provost for academic support programs and retention, said the unsatisfactory rate was not what the university was expecting to hear.
"I wouldn't say the rate (for satisfaction for academic advising) was expected," Deahl said in an email. "Because many of the new strategies impact students starting freshman year and since some of these new initiatives are just one or two years along, they haven't yet had a chance to impact seniors."
One of the initiatives Deahl noted was the advising center in the College of Engineering, established two years ago when the university  hired professional advisers to help with course selection and scheduling.
Deahl said the College of Communication specifically appointed an individual to work with undecided students. The school also added a pathways course, that trains students on the advising process and helps them establish a relationship with their adviser. It is three years old and is now required for first-year students.
Deahl also highlighted some changes that the university will be making with the Preview program.
"These will include an added emphasis on helping new students understand the advising relationship, and their responsibility within that relationship, to come prepared to advising sessions and to utilize the resources and tools available to explore their skills, abilities and interests as they plan their academic path at Marquette," Deahl said.
The report states that while all graduating seniors were invited to partake in the survey, about 832 students responded.
Other statistics that stood out were the 94 percent satisfaction rate with undergraduate education, the 88 percent that were satisfied with the quality of instruction within their major and 32 percent of students who said they had seriously considered transferring at some point in their academic career.
The full report can be found here.