New app development club creates programs for iOS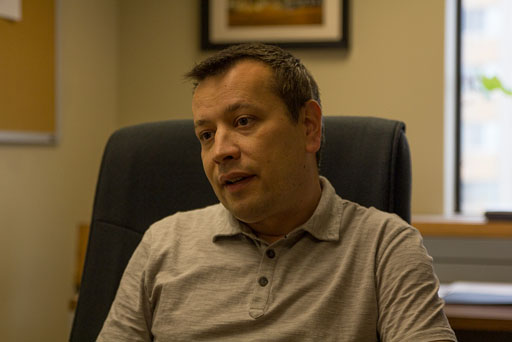 A new app development club is providing students with the chance to learn to make smartphone programs.
Brad Bonczkiewicz, the College of Engineering's director of technology, started the mobile app development club in April to educate students on how to program apps. Students will start with making apps for iOS, the operating system used on iPhones and iPads. The club is an extension of the College of Engineering and currently has 38 members.
"Most of the students are beginners that may only have one semester of programming experience," Bonczkiewicz said. "Very few people have any experience with iOS programming. We're gonna spend some time learning before we start developing."
Dennis Brylow, an associate professor of computer science, said the club is a good opportunity for students because of how prevalent smartphones are
"There are more smartphones on the planet right now than people," Brylow said. "Any student going into the 21st century workforce should have some notion on how apps are created.
Bonczkiewicz gave members the necessary resources to develop iOS apps, Tanvir Roushan, a graduate student in the College of Arts & Sciences said. 
"He opened up a lab with Mac computers and gave us Apple IDs to make developers accounts that we need (to program iOS apps),"  Roushan said.
According to Roushan, having members with varying amounts of experience has been a roadblock.
"There's people in the club from journalism or mechanical engineering that have very little programming experience," Roushan said. "You also have people with many years of experience programming. Bringing everyone to the same page is a big step."
The club meetings are set up in a small discussion format. Bonczkiewicz said he hopes collaboration between members will arise from these discussions.
"If someone has an idea for an app that involves working with patients in a hospital, then someone else in biomedical engineering, could say 'Hey I'm also interested in something like that,' then they can work together," Bonczkiewicz said. "You've got those natural synergies that pop up from discussion groups like this."
Although the club is run through the College of Engineering, it is not officially sponsored by Marquette. The club hasn't attempted to become a sponsored club because there's concerns about leadership turnover when working on long-term projects. Bonczkiewicz said he plans to run it like an official club and encourage members to take on leadership opportunities. However, they do not want to pursue official status until they have a solid member base.
"The problem is that there's so much turnover with students that there's almost no continuity," Bonczkiewicz said. "We see that there's issues where students graduate and then projects are dropped. If projects can't be completed in a short amount of time, it's not very effective to run it as an official club."
While the club is still in the training process, members have shown an interest in developing apps that could help the Marquette community. Bonczkiewicz said one of the apps discussed was in eLimo app that could help students access limos more easily.
"We've heard that sometimes it's slow to get to dispatch and you don't know where the vans are so sometimes you could be waiting outside for a while," Bonczkiewicz said. "Minimally, we could develop an app that could show where the vans are, so that would be a huge help. Then we could add on easier access to dispatch."
The eLimo app would have to be a collaboration between the app development club and the Department of Campus Safety Bonczkiewicz, said.
"Sometime this semester, we'll meet with someone with campus safety to understand how the limo program works and see some of the challenges that they have," Bonczkiewicz said. "From there, we can see where we can help improve their operations by use of an app."
Leave a Comment