When the movie "Pitch Perfect" hit theaters in 2012, a cappella seemed to take the world by storm. Fans wanted to try out this way of singing.
While a cappella may still seem new to many people, it has been a lifestyle for others, especially Marquette's three on-campus a cappella groups.
The Meladies, an all-female a cappella group, welcomed three new members this fall.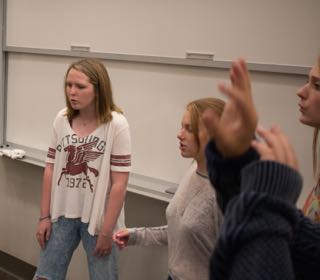 Audrey Taylor, a sophomore in the College of Communication and new member of the Meladies, is no stranger to performing. She has been singing with her choir since high school. When she came to Marquette, she decided it was time to try something new. During her freshman year some of her friends joined the Gold 'n Blues and Meladies. They encouraged and inspired her to try a cappella for the first time.
"It's not like choir or singing in the shower. It's very unique," Taylor said.
After four years at an all-girls high school, Taylor wanted to be part of a community that felt like a sisterhood and allowed her to continue performing. The Meladies were just who she was looking for.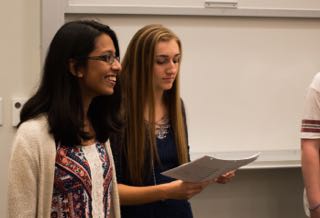 Nikhar Merchant, a freshman in the College of Arts & Sciences and new member of the Meladies, spent her four years of high school performing with choir and a vocal jazz ensemble. She was inspired to pursue a cappella after working on projects and performing in her high school variety show with friends. They placed third with their mash-up of Lorde's "Royals" and M.I.A.'s "Paper Planes."
"When I toured Marquette we were passing by the Varsity Theatre and my tour guide said they had a cappella concerts there and I had no idea," Merchant said. "I guess that's one of the things that made me choose Marquette. Not everywhere has a music program like this."
She auditioned for the Gold 'n Blues and the Meladies. She did not make the Gold 'n Blues, but after callbacks she realized that she would have chosen the Meladies anyway.
"They are super welcoming," Merchant said. "I feel like they are the most genuine people. It's so cool to see people that are so serious about what they do and what they are passionate about be just as passionate about the people they do it with."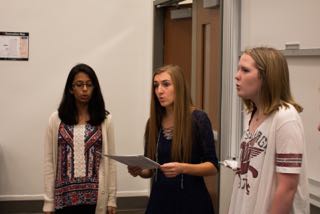 Meredith Sullivan, a freshman in the College of Nursing and new member of the Meladies, went to "Acapocalypse," an a cappella festival, where she was inspired by the music. She started performing a cappella her junior year of high school. When she toured Marquette and heard about the Meladies on her tour, she decided then that if she chose Marquette, she would audition.
"Callbacks were really fun," Sullivan wrote in an email. "Afterwards I actually texted my mom and told her that even if I didn't make the group, I wouldn't be upset because it was such a great experience."
This is the first article of a three-part series introducing all of the new Marquette a cappella members leading up to Acatoberfest. Check back each week to get to know them all.