GOODS: Would Utah lacrosse make sense for BIG EAST?
Go west, young fellas.
The University of Utah sent shock waves across the lacrosse community last week, announcing the hiring of University of North Carolina assistant Brian Holman as the club team's new head coach. The move was made as part of an effort to elevate Utah lacrosse to the Division I level in the next two to four years.
Utah will be only the third lacrosse school further west than Marquette, joining Denver and Air Force, and the first Pac-12 school to sanction the sport. They're paving the way for future programs out west, which is outstanding for the growth of the sport. Despite it being a very admirable thing to do, it will definitely come with it's growing pains.
Being the first school in an area is a tough burden, as Marquette has seen firsthand. It's been difficult for Marquette coach Joe Amplo to find teams willing to fly to Milwaukee, and Utah doesn't have the advantage that Marquette had of belonging to a conference that sanctions the sport.
Unless the Utes want to go the independent route, they need to find a home. It may seem unusual, but the BIG EAST might be the conference that makes the most sense.
It's clear the BIG EAST would be an attractive destination from Utah's side of things. Joining the conference would make the most sense geographically, as the Utes would be in a conference with two of the closest programs, Denver and Marquette. That's heaven compared to joining out-of-place Air Force in the Southern Conference.
It's one of the stronger conferences in the sport, boasting some historic lacrosse programs that would definitely serve as a nice recruiting tool.
As for the conference's perspective, let's start with the obvious — Utah is far away. It isn't an enormous flight for Marquette (who is used to flying that far in other direction), but it is a haul for St. John's, Georgetown, Providence and Villanova.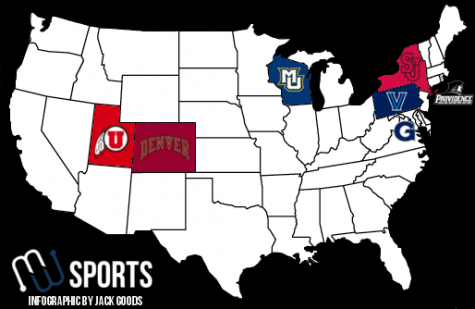 However, the teams are already willing to fly out to Denver every other year, so would it be that much different to make that general flight once a year? With seven teams you can schedule each to have three home and three away and set it up where no team will have to fly to both Denver and Utah in a season.
When looking at the lacrosse fit, the conference needs to assess how quickly Utah can build a program. This is where I think the numbers add up for the match. The Utes landed a coach with a great reputation in Holman, who is coming off a national title with the Tar Heels. Joining him as assistants are his son Marcus Holman and Will Manny, both successful players in Major League Lacrosse. These are the sorts of names that help land top recruits.
The Utes are already compiling a handful of 2020 recruits, including one player who decommitted from lacrosse powerhouse Loyola (MD).
Utah is also a big name school, the first FBS school to add the sport since Michigan in 2012.
All these factors seem to point toward Utah building a good program sooner rather than later. Although the BIG EAST already has their automatic qualifier with six teams in the conference, adding another solid program would give the conference some depth. That's especially important in times like these, where St. John's and Providence are in a rut.
It would likely also keep Denver happy, giving the power program of the conference a regional rival.
Of course, a move likely wouldn't be permanent. Once enough western schools add the sport Utah would likely move to a new western conference. That being said, Denver likely would too, meaning the BIG EAST wouldn't have enough teams for an automatic qualifier… but that's another column for a different day.
Leave a Comment