First Refugee and Migrant Simulation aims to dismantle stigma, stereotypes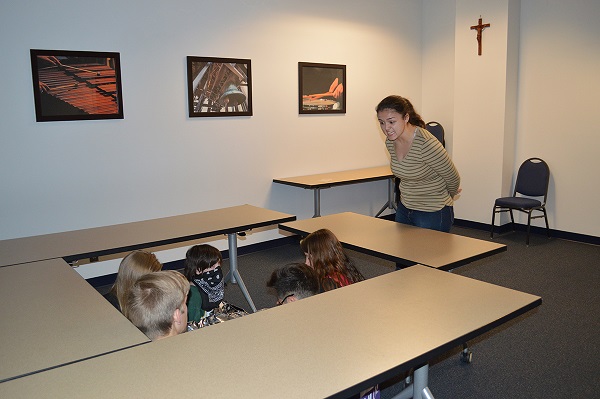 Hang on for a minute...we're trying to find some more stories you might like.
Members of Sigma Lambda Beta, the Center for Peacemaking, Youth Empowered to Succeed and Students for Justice in Palestine sponsored a Refugee and Migrant Simulation on Saturday in to raise awareness about the refugee and migrant crisis happening throughout the world.
This is the first Refugee and Migrant Simulation to take place on Marquette's campus and the Center for Peacemaking hopes to make it a yearly event. More than 15 students and staff took part in the seven-course simulation based off of true refugee and migrant stories.
Nick Truog, a senior in the College of Arts & Sciences, helped design the simulation to eliminate stereotypes athat people associate with refugees and migrants.
"Our goal is to replace the name-calling and stigmas with educational awareness," Truog said. "The best way we can learn is through our peers, and although this is nowhere near the experiences that migrants face, it has the power to start a conversation."
Once participants registered, they received a pretend age and name, a few possessions and a blindfold for simulation purposes. Students and staff were divided into small groups where they had to tackle a series of courses.
Each course required participants to overcome a variety of barriers – crossing border lines, going through an extensive interview process and being put in an asylum room, among others.
Guards led every course and scenario, yelling at the participants and treating them similarly to how migrants and refugees are treated.
Rebecca Zellelew, a senior in the College of Arts & Sciences, volunteered at the simulation and acted as a pretend guard. At her station, participants walked around a variety of roadblocks, such as chairs and buckets, while blindfolded to symbolize the frustrating journey that migrants and refugees experience.
"Being an officer, I felt bad turning the refugees and migrants away because I know that they had worked so hard to get to this point," Zellelew said. "It takes more energy to make people suffer, and watching them struggle at different stations was hard."
This simulation offered a lot of important statistics about migrants and refugees, including how the U.S. has a policy that allows only a certain number of people to be granted asylum despite the thousands seeking help.
Katie Lane Frei, a senior in the College of Health Sciences, participated in the simulation after traveling to El Paso, Texas, for a Border Awareness Experience trip during spring break.
"The Border Awareness Experience trip was a really great educational opportunity for me because I was able to hear personal stories from migrants and learn about what they go through," Frei said. "This simulation lets me put myself in their shoes and has taught me how to take action to help migrants and refugees."