Bernie Sanders rallies in Milwaukee before next week's Wisconsin primary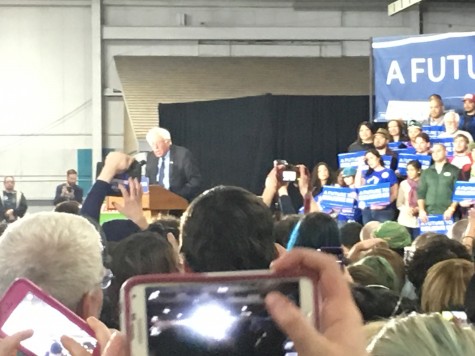 Democratic Presidential Candidate Bernie Sanders (D-Vermont) visited Milwaukee's State Fair Park Tuesday to reinforce that his campaign is "by the people and for the people."
"We're doing something really radical," Sanders said. "We're telling the American people the truth. And what we're telling the American people is to think outside of the box. The status quo does not have to continue."
Over 5,000 people flocked to the Sanders rally. Among those were several Marquette students who were eager to support the senator.
Taylor Huppert, a senior in the College of Arts & Sciences, said Sanders really listens to what people want, making him the ideal candidate.
"You can look back through his entire political career and he's been consistent," Huppert said. "He has fought for the same things throughout his entire political career. He hasn't swayed his opinion and he hasn't changed what he has stood for."
Last weekend Sanders beat Hillary Clinton in Alaska, Hawaii and Washington caucuses, but he still lags behind her Democratic delegate numbers. Clinton currently has 1,243 delegates while Sanders has 979, according to the International Business Times.
Wednesday's new Marquette Law School poll, which received 1,405 respondents, predicts Sanders will win 49 percent of the April 5 Wisconsin primary Democratic voters and Clinton will get 45 percent.
"When we began this campaign months ago, we were considered a fringe candidacy," Sanders said. "A lot has changed in 11 months."
Ashley Morgan, a 2015 graduate from the College of Arts & Sciences, said Sanders is the first presidential candidate she has ever trusted.
"When (Sanders) was asked 'What is one word you would want to be known for if you become president?' he picked 'compassion,'" Morgan said. "He really sees the humanity in every issue. He knows people are involved in every decision he is going to make and he doesn't take that lightly."
Throughout his speech, Sanders bashed Wisconsin Gov. Scott Walker's decisions while in office.
"I'm sure there are ideas we agree on, I just haven't seen them yet," Sanders said about Walker, eliciting audience laughter. "You have a pretty good idea as to what I would do as president by looking at Walker because I would do the exact opposite."
If elected, Sanders said he will expand education by offering free college tuition, raise the national minimum wage to $15, work to fix what he describes as a broken criminal justice system and expand the Planned Parenthood budget.
The Wisconsin primary is crucial to Sanders' campaign since the state has 86 elected delegates and 10 superdelegates.
Catherine Knier, a senior in the College of Health Sciences, urged everyone to study the issues, find the candidate they most agree with and vote.
"Voting is your right so exercise it," Knier said. "It's your referendum, it's your voice telling people what you approve of and what you stand for. It's essential that you exercise that right as an American."
Leave a Comment