Sodexo brings kosher food to some dining halls after student request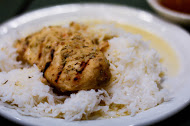 Sodexo is known to accommodate the dietary needs of students on campus by offering both vegetarian and gluten-free options. Students who keep kosher can now be included in the diet-specific needs that Sodexo works with.
When Issac Vineburg, a junior in the College of Communication, was a freshman in 2013, he wanted to abide by the kosher laws, but there were no options in the dining halls. He reached out to Sodexo to see what could be done.
"(Sodexo was) willing to get pre-packaged kosher meat for all of my meals," Vineburg said in an email. "As a freshman, I asked for kosher meat to be in the Cobeen dining hall … and when I became an (resident assistant) in O'Donnell, they had the meat transferred to McCormick."
Individuals who keep kosher, food that has been produced or prepared according to Jewish dietary laws, may have differing views regarding how strict regulations need to be. This includes what equipment is used to prepare the meat, who is present when the food is prepared and what type of environment in which the food is prepared.
Sodexo does not have the ability to abide by each of the regulations but took an active role in listening and developing ways to accommodate those who asked for kosher products in dining halls.
"A couple of years ago we had a student request that we offer kosher food," said Kevin Gilligan, general manager for Sodexo Campus Services, in an email. "We explained the situation at the time, and he felt that the kosher meat would satisfy his needs and was not concerned with the fact that it was not kosher after we touched it."
Once a few students expressed a desire for kosher food on campus, other students voiced their desires for kosher options, and Sodexo worked with them as well.
"I had kept kosher for eight years before (my freshman year), and there are different levels of keeping kosher," said Anna Goldstein, a junior in the College of Arts & Sciences. "I kept what was called kosher-style, so I didn't eat pork or shellfish, I didn't mix meat and dairy but I did eat out."
Students who keep kosher struggle with accessing available food options on campus when they transition to college living. However, the staff in Straz dining hall was able to draw upon its experiences with the practice of keeping kosher to bring students meals that are both delicious and respectful of kosher rules.
"Once I became friends with (Vineburg) and I was at school, I wasn't sure if (keeping kosher) was going to be too hard being at school and away from my friends and family who keep kosher," Goldstein said. "Since I was in Straz last year, it was easier because they were very accommodating, and one of the chefs knows many different recipes since one of her neighbors who had passed away was Jewish and gave her a great cookbook."
Leave a Comment