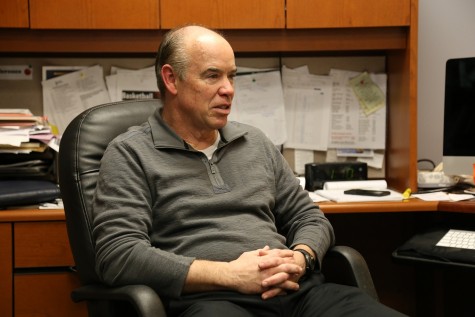 Marquette was the first Jesuit university to have a student recreation center on campus. Now, 41 years after Helfaer Recreation Center was built in 1975, Marquette Student Government is pushing an initiative that would revamp all aspects of campus wellness.
MUSG spent $50,000 in 2010 for Moody Nolan, an architectural consulting firm, to conduct a feasibility study on campus recreational facilities. The study found that Marquette's average amount of recreational space per student is 6.92 square feet. The national average is 10-12 square feet per student.
Marquette's recreational space has not changed since the study was conducted.
"We've had a need here at the campus recreational facilities for years, really," said John Sweeney, director of the Department of Recreational Sports.
A 19-year university employee, Sweeney said he watched the recreational program of 40 club sport teams and over 5,000 intramural sport participants dramatically outgrow their facilities.
"There is not sufficient space in the Rec Plex for a team of 25 people to practice game-like situations," said Holly Stumpf, a junior in the College of Health Sciences and the women's club lacrosse captain.
Stumpf's team practices three times a week and the lack of available practice space never allows a practice to end earlier than 10 p.m. On Mondays, the team practices from 10 p.m. to midnight.
Stumpf said the late-night practices pose problems for the athletes, especially during exam time. In the past, some players quit the team because they couldn't balance the late practices and schoolwork.
MUSG President Zack Wallace met with club sport presidents last week to address their concerns and discuss the university's future plan to create a new recreation and wellness facility. The discussion covered the possibility of adding a student fee to support the construction.
Moody Nolan recommended creating a new facility after conducting the 2010 study. The $60 million project would include a new recreational center, space for club and intramural sports, an educational wellness center, a new medical clinic and a new Counseling Center.
According to university statistics, Counseling Center usage increased by 64 percent from 2001 to 2011.
"A future wellness center that houses recreation, health care and counseling would also help to further normalize counseling and encourage students' pursuit of wellness," said Michael Zebrowski, director of the Counseling Center.
With stairs leading to its waiting room, Wallace and Zebrowski said the Counseling Center is not compliant with the Americans with Disabilities Act. Zebrowski said he hopes for a future center that will be easily accessible to all students.
The university is considering the new wellness facility within its master planning sessions but has not announced any specific plans to start fundraising for it.
"We would make sure that students are in the forefront of saying exactly what this new space would look like," Wallace said.
MUSG is also working to implement some short-term recreational changes that include laying turf on Norris Park, increasing access to the Al McGuire Center and improving Practice Space East behind Bookmarq and Humphrey Hall's practice space.