New Pabst apartment building under construction for Milwaukee students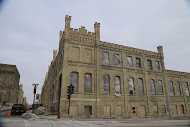 The old Pabst Brewing Company beer bottling house is transforming into Eleven25 at Pabst, downtown student apartments that some Marquette students excited to rent.
"Living (at Eleven25) you get to be a part of old Milwaukee," said Celena Patel, a junior in the College of Arts & Sciences. "I can't even think of anything I don't like about it. I wish I could move in right now"
The apartments are slated to open Aug. 24, 2016 at 1125 N. 9th St. So far, 15 Marquette students have signed leases for the next academic year.
Devinne Love, a sophomore in the College of Communication, said the location isn't too far from Marquette but what really drew her to the new apartments is their design.
"I had never seen an apartment like that before," Love said. "I loved the interior bricking. That was easily my favorite part."
Patel was also drawn to the building for its design.
"I love the floor to ceiling windows," Patel said. "The interior bricking is also really unique."
In addition, Patel said she signed her lease because of the price, location, and because students from schools such as the University of Wisconsin-Milwaukee and Milwaukee Area Technical College will be living there as well. 
"I like the fact (that) I'll be able to meet new people from different universities," Patel said. "Great networking opportunities."
The building's general manager, Jackie Higgins, said Eleven25 will be able to house around 373 residents. She said the building will be ready by June 15 and fully furnished and open to students by Aug. 24.
The building will have luxury amenities including a 24-hour fitness center, study atrium, theater, recreation center, and video game lounge. Eleven25, with living and utility rates ranging from $600 – $1,374 per person for a month, will be competing for tenants with other new luxury apartments such as The Marq and the Ivy on Fourteenth.
"The building sells itself," Higgins said. "The location is fantastic."
Higgins said the building is 250,000 square feet, or three-fourths of a city block, with 200,000 square feet being used as common area.
"It's a unique, massive rectangle," Higgins said. "I think it's really going to bring the neighborhood together."
The building's first floor will include a food court, coffee shop and convenience store.
Higgins said with some areas of Milwaukee lacking a quick place to eat, the food court area will provide that. Milwaukee residents can use those amenities but the apartments are only open to students.
Higgins added that Eleven25 is in the process of talking to the university about extending its routes to the building. However, Eleven25 residents will have access to a private shuttle service to Marquette.
In addition to the resurrection of this Pabst building, Pabst Brewing Company will open a new microbrewery at the southeast corner of West Juneau Avenue and North 11th Street by summer 2016.
"I'm really excited about this neighborhood," Higgins said. "There is nothing like this in Milwaukee."