Arner earning full-time starting goalie role
Sophomore goalie ranks third in wins in ACHA's DIII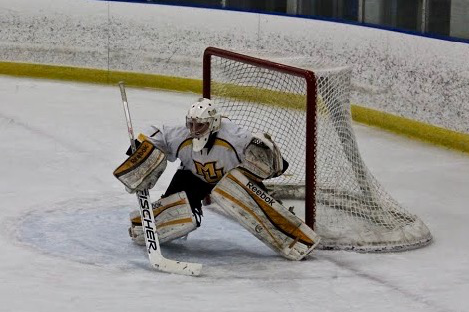 Things have changed for Marquette Club Hockey's starting goalkeeper, sophomore Robby Arner.
"As a young guy, I was always the guy to not make the number one team," Arner said. "I was always on the second team."
Now, Arner is the starting goalie for a team placed third in the American Collegiate Hockey Association's Pacific Region of Division III and on the cusp of a nationals appearance.
"He wants to be the number one goalie and has really excelled in this opportunity," head coach Will Jurgensen said.
Arner began playing hockey at the age of seven, and first played goalie two years later. In high school, he competed for Glenbrook North's hockey team until his junior year. Arner was simply not happy playing for the Spartans. As he puts it, it just wasn't a good situation for him, so he sought a different playing opportunity. He played for another club team, the Highland Park Falcons, his senior year.
Arner made the right choice — his new team became the best AA hockey team in the nation during the 2013-2014 campaign. The Falcons won the Illinois AA state championship and qualified for Nationals. Arner was able to get revenge on New Trier, the team that beat his former team in the Illinois State Championship that year.
After graduating in 2014, Arner began studying business administration with a focus in supply chain management at Marquette. He earned a spot on the team last year, but wasn't able to get comfortable at his position due to competition with junior goalkeeper Alejandro Anderson. The two split playing time for a majority of the season. This year however, Arner has started from day one, and he's embraced the opportunity.
"Being the main guy has really boosted my confidence, and it's helped my game," Arner said. "I feel free. I don't have to worry about people taking my spot, or not getting enough playing time."
His increased confidence has shown. He saved 76.1 percent of opposing shots, up six percent from last season, and allowed an average of only 2.89 goals per game, a .4 percent improvement. He's won 17 games, and is tied for third among active goalies in the ACHA's DIII.
"I have asked a lot out of him with all the games he has had to play, and he has really stepped up," Jurgensen said. "We owe quite a few of our wins to his good play."
Arner's confidence this season has also allowed him to rebound after conceding goals.
"I feel last year I kind of let it affect my game," Arner said. "This year I just come back and focus on the next shot. You can't control the goal that you just let up. You can control what happens next."
The intricate mind of a goalkeeper must process the surrounding plays almost immediately, and Arner is no exception. With perhaps the most critical position on the ice, Arner self-motivates by deciding that he's "going to stop the shot, no matter what."
"If you keep telling yourself that over and over, that gives you enough confidence to focus on that shot, and focus on what you can control," Arner said.
Leave a Comment