Drum Guy brings the noise at Valley Fields
"They can't really throw me out," he said.
Walk anywhere in the vicinity of Valley Fields on the night of a men's soccer match and David Heim's voice comes into earshot.
"Hey Brendan, I like your haircut, by the way!" David yelled to freshman defender Brendan Skinner at a seemingly random time during Marquette's 4-2 win over Seton Hall last month.
Or there's Seton Hall Pirates goalkeeper Elliot Munford, who Heim tormented with the same chant all night: "Hey Elliot! We're coming after ya, Elliot!"
Even something as seemingly benign as not catching a t-shirt inspired a quip. "52,000 a year and I can't even get a stupid t-shirt," David said.
Then there's Heim's fondness for his drum. Every match, Heim pounds the side of a marching band bass drum, providing a constant, unwavering ambiance to any match at Valley Fields. The Marquette soccer community gladly bestowed him the nickname "Drum Guy."
"I'm here for the boys," David said. "When they go to that next level, it's pretty much natural to have all kinds of noise and cheering and clapping for you. That's what I want to do. I want to motivate the boys."
The one player in particular David wants to motivate is his son Noah. Ever since the redshirt freshman goalkeeper committed to Marquette three years ago, David trekked an hour fom Cambridge, Wisconsin to Milwaukee, always with a gold and navy blue scarf draped around his neck regardless of his son's approval.
"(Noah) doesn't necessarily think this is real amusing," he said. "But he's getting accustomed to it."
"He's always the loudest one at the games," Noah said. "He's always cheering loud and I think it suits him very well."
Noah had childhood dreams of playing basketball at Marquette, not soccer. When those goals changed, David showed up to support his son even though he had hardly watched a match of soccer in his life.
"He's not very good at soccer. He can't kick a ball," Noah laughed. "He's always supported though and has always made time commitments to take me to where I need to go."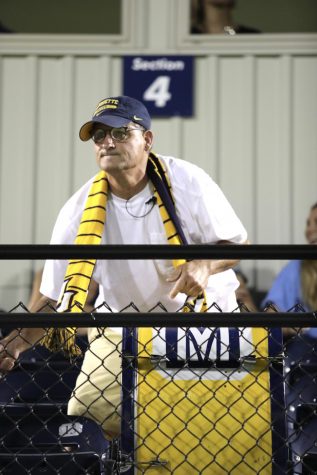 Driving around to local high school matches would be enough of a commitment, but David went above and beyond. He drove to Florida once for an Olympic Development Program through U.S. Soccer and has only missed one road match this season.
"When we got off the bus in Kentucky, there was one guy banging a drum," men's soccer head coach Louis Bennett said. "We felt like, 'Wow, we must be home.'"
Against Seton Hall, David made sure everybody recognized his passion. "Everybody's over here on the side," Heim observed as he brought his drum into the student section. "Why aren't you over there, pestering Elliot?"
"I will do it, don't you worry," David said, hoisting his drum as he walked past students gathered behind Seton Hall's goal.
That drum was nearing the end of an uneventful life when David fished it out of the trash years ago, before he even knew it would get any use. He's used the drum so much that only one side of the drum produces the deep, resonant sound it's supposed to make.
When the drum is insufficient, David turns to his booming voice to rile up the crowd. "Everybody has a different idea of what soccer is," David said. "I think they're kind of getting it; they're starting to chime in. Or if I ride them or call them out by name, they usually start participating."
Not everyone in the crowd is always as thrilled by David as the home fans and players are. Toward the end of last season, one of the spectators at Valley Fields was getting annoyed at Heim's drumming and called security.
Security ruled in David's favor, but he hasn't always been so lucky. Villanova and Wisconsin forbade him from taking the drum into their soccer complexes.
"Some of these places are getting kind of picky," David said. "I suppose they want to eat cheese and drink wine."
David may be ratcheting up the intensity of his cheering now that his son is starting. Starting goalkeeper Luis Barraza injured his arm during the homestretch of the season, which gave Noah the opportunity to start in goal for the team's final two home games against Creighton and Butler.
Before that, Noah's first start came against the then No. 4-ranked Georgetown Hoyas, a closely-fought match that Marquette dropped 2-1.
"It was a really good experience, honestly," Noah said. "It's always good to get one under your belt at least, just so you know what's going on."
Meanwhile, even as his son starts in goal, David still doesn't understand much about the game.
"He talks a lot to the parents who know about soccer because he really doesn't know anything about soccer," Noah said. "He'll ask me questions all the time when we're watching in the living room."
Even after Noah graduates from Marquette in three years, David still plans on showing up, banging his drum and being, in his own words, "loud and obnoxious."
"There's a lot of parents that don't really care for all this noise-making," David said. "To be honest, I don't really care about the parents. I'm here for the boys."
Leave a Comment