"He really set the world on fire" – Mass held in memoriam of former Gesu pastor John Schlegel
Julie Grace, General Assignment Reporter
December 13, 2015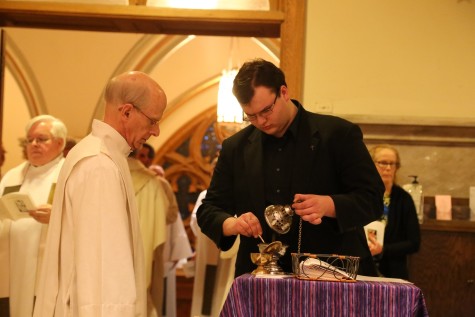 Nearly 200 people gathered in the Church of the Gesu Dec. 11 to celebrate the Rev. John Schlegel, the church's former pastor who died Nov. 15.
When Schlegel was diagnosed with inoperable pancreatic cancer earlier this year, he chose to spend his last months celebrating life. He traveled, met Pope Francis and spent time with family and friends. He also chose the prayers, readings and music for his funeral and memorial Masses.
Schlegel died in Nebraska, where he was formerly the president of Creighton University. His funeral mass was held there Nov. 20.
"We all know how he choreographed the last months of his life and funeral," said the Rev. Douglas Leonhardt, College of Education chaplain, during his homily. "But I think he forgot one thing – to write his own eulogy. I guess he trusted me in Milwaukee."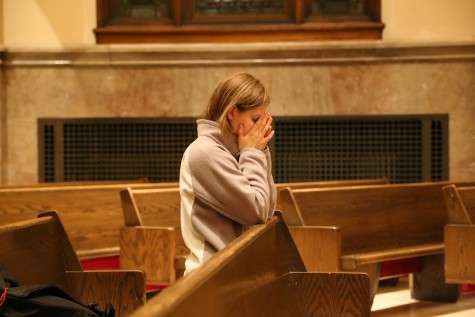 Leonhardt said Schlegel brought wisdom, insight and faithfulness to everyone he served. His passion for faith, imagination and the mission of Jesus was portrayed in the readings he chose for the Mass.
"He was restored to full health, energy and vitality through new life in Christ," Leonhardt said. "He served others with enthusiasm and passion."
Leonhardt ended his homily with a passage from Karl Rahner, a Jesuit theologian.
"The great and sad mistake of many people is to imagine that those whom death has taken, leave us," he said. "They do not leave us. They remain! Where are they? In the darkness? Oh, no! It is we who are in darkness. We do not see them, but they see us."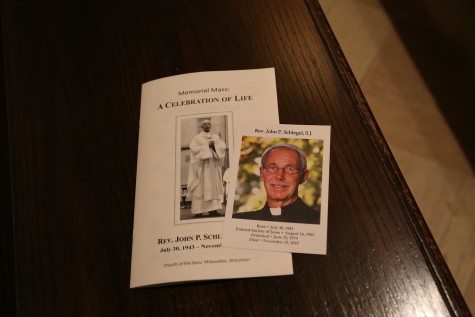 Gesu parishioners, Marquette community members and Schlegel's family attended the Mass. The Rev. Jim Flaherty presided over it, and many Jesuits from Marquette and the Wisconsin Province were in attendance.
Andrew Stec, a senior in the College of Health Sciences, said he did not know Schlegel personally but attended to pay his respects.
"It's important to remember him because he is one of us," Stec said.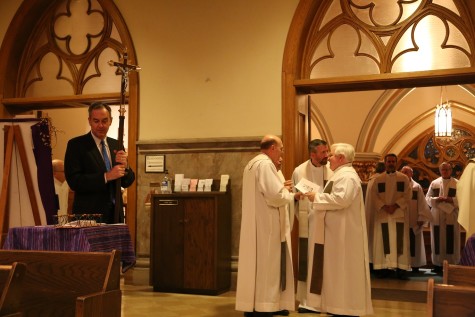 Rick Tafoya, who received baptism from Schlegel, said he remembered when Schlegel announced his cancer diagnosis and then administered the anointing of the sick to others.
"I felt blessed for my path to cross with his," Tafoya said. "The encounters I had with him have been seeds planted in my own life. He really set the world on fire."
Newspaper articles on Schlegel's life, diagnosis and death were displayed in the back of the church for attendees to read and reflect on. Following the Mass, there was a reception in the lower church to continue the celebration of Schlegel's life.