Students react to possibility of a tobacco-free campus
Executive Producer: Hannah Kirby and Associate Producer: Halle Gordon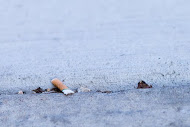 Students have mixed reactions to Marquette Student Government's decision to prohibit tobacco use on campus.
MUSG voted 16-3, with four members abstaining, to pass the tobacco-free campus legislation Nov. 9. It is being sent to University President Michael Lovell for final approval.
The legislation approves creating a temporary committee of students, faculty and staff who will be responsible for writing the tobacco-free campus policy by Aug. 1, 2016. If Lovell approves, the committee is slated to be formed by the end of this semester.
Marquette is considered a smoke-free campus, meaning that the public is not allowed to smoke within 10 feet of any university-owned buildings.
Blake Hartman, MUSG senator and freshman in the College of Business Administration, voted against the legislation. He said it won't do much to discourage smoking and will be a waste of time and resources.
"I don't think it's going to be as effective as (MUSG) says it will be," Hartman said. "It's just not going to do enough."
Francesca Caparas, a sophomore in the College of Arts & Sciences, said she supports going tobacco-free.
"I would still feel a little bad for those who smoke a lot," Caparas said. "Many of those smokers use it for stress relief and relaxation, so it would be a difficult transition for them."
Clayton Keefe, a senior in the College of Arts & Sciences, abstained from voting on the legislation. He said he supports Marquette as a tobacco-free campus but was concerned about implementing the committee and its policy.
"I would like to see the committee (form) before the campus became tobacco-free completely," Keefe said.
Four students wrote the legislation and brought it to MUSG. They also gathered more than 1,600 faculty and student signatures on a petition for a tobacco-free campus.
"This is not meant to take away anyone's right, it's to speak for those who feel their personal health is being violated on a consistent basis," said Michaela Bear, one of the legislation authors and a junior in the College of Arts & Sciences.
Olivier Van Hauwermeiren, a sophomore in the College of Arts & Sciences, said he isn't a fan of going tobacco-free.
"I just don't see how much it would actually change," Van Hauwermeiren said. "People will still find ways to smoke, so I just don't think it would actually make a difference."
One concern with going tobacco-free is that it may alienate international students who came from a culture where tobacco use is more accepted.
Jon Arratibel, an international student and a freshman in the College of Business Administration, said he supports the initiative because of how harmful tobacco is.
"I think that modern societies have to encourage healthier lives and try to educate the population to reject damaging products that affect not only the consumers," Arratibel said in an email.
Robin Brown, the associate director of student health and wellness, said secondhand smoke is a Class A carcinogen.
"One of the most effective ways to decrease harm from tobacco at Marquette is to change the cultural norm by establishing a tobacco-free campus policy," Brown said.
She said tobacco smoking in the U.S. produces 16 million carbon dioxide equivalents per year, which is the same amount that four million cars produce per year, which is supported by many researchers.
There are 1,620 smoke-free, 1,130 tobacco-free and 769 e-cigarette-free campuses in the United States – including three Jesuit universities.
Brown said 70 percent of daily smokers want to quit, and half of them try to each year, but only eight percent are able to quit. She added that nicotine is a classic addiction, which means that smokers develop several traits including tolerance, mental preoccupation and withdrawal symptoms.
She said 50 percent of occasional or social smokers in college go on to smoke for the next 16-20 years, and 75 percent of high school smokers go on to become daily adult smokers.