Women's soccer will battle for a high seed Friday at DePaul
Golden Eagles ensure home field advantage with win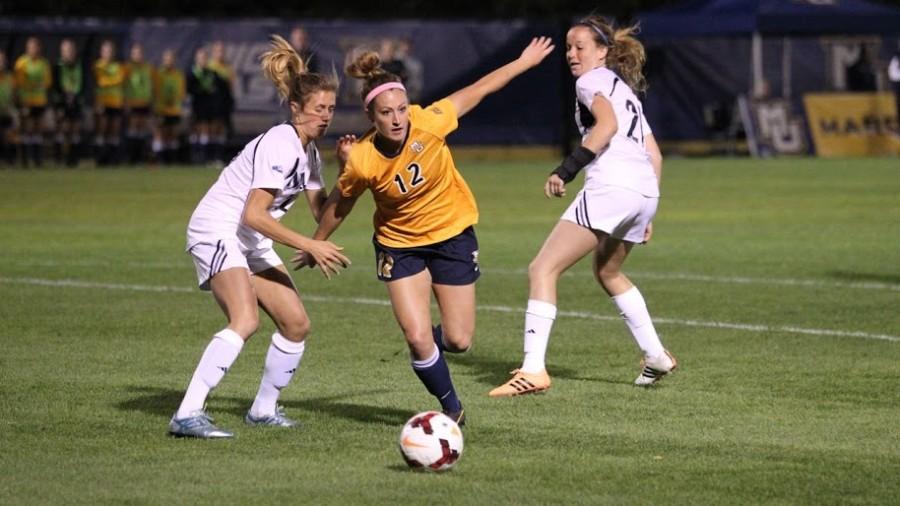 Dan Reiner, daniel.reiner@mu.edu
October 29, 2015
Just a few weeks ago, the Marquette women's soccer team was down in the dumps. The team had just suffered a demoralizing 3-0 loss to conference-leading St. John's, which put them at 4-6-3 and looming outside of the BIG EAST playoff picture.
Since that Oct. 4 match, the Golden Eagles have not lost a game and are looking at a scenario that could give them a first-round bye in the conference tournament. That possibility will depend on the outcome of Friday's match against rival DePaul.
"We're in a good stretch right now," head coach Markus Roeders said. "We're where we needed to be and where we want to be. We have a ton to play for this weekend, they have a lot to play for. Right now, it's all about seeding."
Marquette is 4-0-1 dating back to a momentum-shifting overtime win against Xavier on Oct. 8 and are currently fourth in the conference. The ladies in blue and gold have outscored opponents 7-2 during the streak, including three goals from redshirt junior Darian Powell last week against Villanova and Butler.
"I think it's great for us moving forward just to finally be scoring some goals, because we kind of struggled at the beginning of the year," Powell said.
Roeders said the team got plenty of scoring opportunities this past weekend, but called on forwards Powell, juniors Ashley Handwork and Liz Bartels, redshirt sophomore Molly Pfeiffer and redshirt freshman Emily Mouille to keep up the aggressiveness against a stingy DePaul defense.
The Blue Demons defeated the Golden Eagles twice last season – first at Valley Fields in a 3-2 contest, then in a shootout bout in the BIG EAST tournament semifinals to end Marquette's season.
"We're out to get them, and we're ready to finally beat them," said Powell, who scored one of the two goals in last year's regular-season match. "They've always been kind of our enemy, so we're really looking forward to this game."
Senior forward Elise Wyatt, who has 11 goals and 26 total points on the season, leads DePaul's high-powered offense. The Blue Demons average 2.11 goals per game while only allowing 0.61 goals per game, both ranking second-best in the conference. In a game that could move either team anywhere between second and sixth place, one goal could be the difference.
"It's tournament time," Powell said. "We're done losing … we're all just finally pulling together and saying, 'This is our goal. We need to score. We need to win.'"