Roy Norton, Consul General of Canada to Illinois for the Canadian Consulate, talked to Marquette students on Monday about what drives and deters the trade relationship between the United States and Canada.
Norton's visit, hosted by the College of Business Administration, marks the first time that the Canadian consulate in Chicago, where he is stationed, has connected with Marquette. His presentation was titled "Why Canada matters to Wisconsin and Wisconsin business."
"He promotes Canadian interest in trade, investment, the environment and cultural and academic relations," said Brian Till, dean of the College of Business Administration.
The United States and Canada have the largest two-way trade relationship in the world, according to the Government of Canada's website. They traded around $760 billion in goods and services during 2014.
"The relationships are huge given geographic proximity, given the border, given the Great Lakes – and they only grow," Norton said.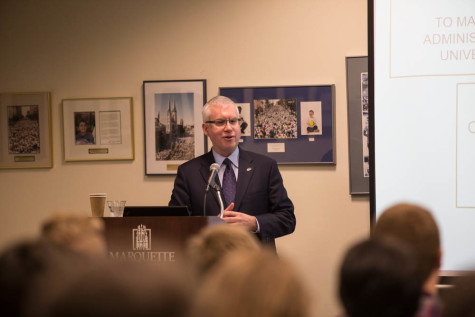 Norton said Wisconsin's trade rate with Canada is higher than any other state. According to Canadian government statistics, 34 percent, or $12.4 billion, of Wisconsin's total global trades are exported to Canada.
"I had no idea that Canada was such a big partner with the United States, and with Wisconsin in particular," said Abigail Busse, a junior in the College of Arts & Sciences. "The amount of cooperation is pretty incredible to me."
Norton said the areas surrounding Marquette collectively generate almost $3 billion in service exports to Canada.
The United States buys more from China than it does from Canada, but it sells far more to Canada than to China, according to Norton. However, he speculates that this will change.
"The gap is narrowing and we will probably be overtaken at some point by China." Norton said. "No doubt, that will cause great national angst in Canada."
Norton also discussed Canada's evolution as an emerging global energy superpower, a title coined by Canada's former Prime Minister, Stephen Harper. Norton said Canada is the fifth largest producer of oil in the world and the third largest producer of natural gas. He said the trade relationship between the U.S. and Canada thrives on factors such as geographical distance, language, time zone and business culture.
Audience members asked Norton questions during the second part of his presentation. He discussed Canada's education system, the recent Prime Minister election, Ontario's economic state, the country's language and its military.
Norton will spend the remainder of this week in Wisconsin, visiting various cities. He will speak in Madison at the Republican and Democrat caucuses, the House and Senate and at the University of Wisconsin-Madison.