GOLDSTEIN: Embrace the March Madness anarchy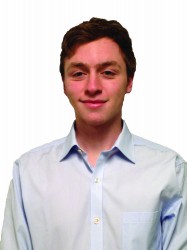 It happens every single year; fans consume an irresponsible amount of college basketball during the season, watch the conference tournaments with the focus of a (Golden) Eagle and pour time and effort into picking what they think is a solid bracket.
And every year, as reliable as the equinoxes, March Madness shreds the carefully planned brackets to pieces, lights those pieces on fire, then dances on the charred remains. Most times, this happens before the clock strikes 6 p.m. on the first evening of Madness.
According to USA Today, if you were to close your eyes and pick every game at random, your chances of filling out a perfect bracket are one in 9.2 quintillion. Yes, that's quintillion with a "Q." Quintillion as in a nine with 18 zeroes after it. You'd have a better chance of being bitten by a great white shark, a hammerhead shark, left shark and Mark "The Shark" Titus within 10 minutes of each other than getting anywhere close to a perfect bracket.
But let's assume you don't randomly fill out your bracket and factor in win probabilities – i.e., one-seeds always beat the 16-seeds, the two-seeds almost always beat the 15-seeds, etc. If you do that, your odds radically improve to one in 128 billion, according to DePaul mathematician Jay Bergen. With those odds, USA Today calculated that if everyone in America filled out a unique bracket, we'd see a perfect bracket once every 400 years on average.
Actually, though, it may be better to just wing it no matter what the odds say, because the people with the best brackets almost never put any thought into it. This year's quest for college basketball's holy grail actually lasted longer than expected – it took until the 35th game out of 63 for the final perfect bracket on ESPN.com to fall.
An account with the username Malachi owned the only bracket with a perfect first round. And yet the owner of the account, who asked for his identity to remain anonymous due to privacy concerns, told ESPN.com, "I actually haven't watched a full game all year."
Not dumbfounded enough yet? Malachi, who filled out his bracket 15 minutes before the first game tipped off, also told ESPN.com, "I knew I had to have some upsets, but I can't really give you specific reasons as to why I chose certain teams over others."
That's why logical reasoning fails 95 percent of the time in March Madness. The defining question isn't, "Who's the better team?" It's, "Who's the better team on that particular day?" Also, of the thousands and thousands of Division I college basketball players, only 60 of them get drafted into the NBA at the end of the year. When you think about it that way, the difference between, say, Iowa State and and Alabama-Birmingham doesn't seem insurmountable anymore.
Now, factoring in all the aspects of the college game – shortened 3-point line, 35-second shot clock, more stringent foul calls, etc. – makes it easier to overcome an athletic disadvantage. These things act in tandem to form a whirlwind of complete anarchy, where just about anything can happen.
So don't get too preoccupied with the fortunes of your bracket. Remember how it goes every year: you care about it for the first day or two, watch it go kaput by the end of the first weekend and then stop caring about it when Wichita State makes it to the Final Four. Besides, on the day when a 16-seed finally threatens to upset a one-seed, do you really want to be rooting against it just for the sake of your all-too-fragile bracket?
Next year, put away the cheat sheets and have your four-year-old brother or your pet parakeet fill out your bracket. They have just about the same chance of being right as Dick Vitale does.
And if your bracket ends up in the bolt-shredder yet again, well, isn't that just March Madness for you?