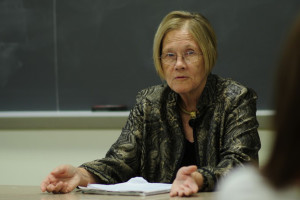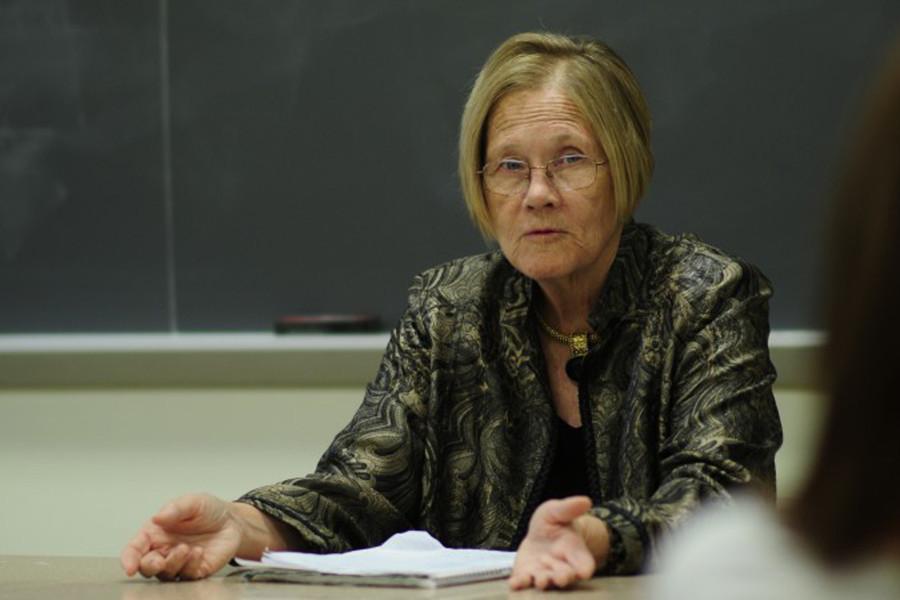 There are few people who can say their past week included the likes of renowned activist Gloria Steinem, the United Nations and talks with North Korea, but this year's Peacemaker in Residence, Col. Ann Wright, is one of them.
Wright helped organize Women Cross the DMZ, the walk for peace across the Demilitarized Zone between the Koreas that was officially announced at last week's United Nations press conference in New York City. She collaborated with Steinem and Nobel Peace Laureate Mairead Corrigan Maguire for this effort.
"We're going to be taking 30 international women from North Korea through the demilitarized zone to South Korea," Wright said, adding that the effort was to encourage dialogue and peace between the nations.
Marquette's Center for Peacemaking invited Wright to spend the week on campus as part of its Peacemaker in Residence program, started in 2007. She will speak at several events throughout the week and in various classes, with a keynote panel discussion on Wednesday at 4 p.m. in Alumni Memorial Union 157. It will cover themes of just war, pacifism and peacemaking.
Wright is a former U.S. Army colonel and career diplomat who received the State Department Award for Heroism for her work helping thousands of people escape from Sierra Leone during their civil war. She resigned in 2003 after nearly 40 years of work in the government "on an issue of conscience and principle" regarding the Iraq invasion, and has been a peace activist since.
Chris Jeske, associate director of the center for peacemaking, described Wright as "one of the most courageous and bravest people I've ever met. She's one of the most prominent peacemakers of our time."
In her first class discussion of the week, Wright shared stories of her experiences and her decision to resign from government work with a class on Global Humanitarianism and Aid. She answered questions, and students expressed their passion for social issues including gender equality and ending genocide. Wright encouraged students to fulfill the Jesuit ideal of social justice and talked about all careers, especially in the government, requiring the ability to make tough choices on the basis of conscience and integrity.
Wright is actively involved in peace initiatives around the world, including protesting the use of assassin drones and torture by leading speaking tours in an assortment of countries. Despite all of her engagements, Wright said she feels honored to be at Marquette.
"Being here and speaking with students is a part of the mission," Wright said. "It's just as important to be here at Marquette to talk with students about challenges they're going to be facing as they take over the leadership of our country and the world, as it was to be protesting at Creech Airbase the other day."
"(Wright) is so accomplished," said Haley Wilson, a senior in the College of Arts & Sciences. "I'm impressed that Marquette got her. It's really inspirational to hear her speak, especially about the youth."
As her first class appearance wrapped up, she threw her hands into two peace signs and encouraged students to make the world a better place.
"The people who are the future of our planet are not about to let our world go to ruins, which gives me hope," she said.