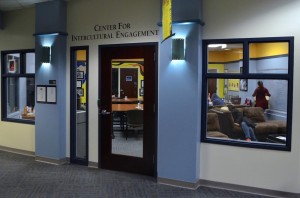 Marquette is estimated to have anywhere between 40 and 100 students not living in the U.S. legally, and is providing different programs and resources designed specifically for them.
The Marquette website uses the College Board's definition of "undocumented" to describe students without legal residence: "children born abroad who are not U.S. citizens or legal residents. There is no federal or state law that prohibits the admission of undocumented immigrants to U.S. colleges, public or private."
"Undocumented students have access to all of the services and resources the Career Services Center offers to all students plus additional web resources and advice tailored to their unique situation," said Kestner-Ricketts in an email.
One of those tailored resources is located on the Career Services Center website under the Diverse Populations and Affinity Groups section. There is a specific link for students without legal residence, but it is down temporarily. Kestner-Ricketts said she hopes to get it running again shortly.
Additionally, Kestner-Ricketts said Career Services leads a committee that discusses issues students without legal residence face. Part of its work is gathering student resources online and meeting with a panel of students without legal residence to identify their ideas, concerns and needs.
Youth Empowered in the Struggle, a student organization that fights for justice for immigrants, students and workers, meets monthly to discuss what's going on and what needs to be done for undocumented students.
Miguel Sanchez, a junior in the College of Arts & Sciences, said he has been involved with YES since 2010.
"I got involved in high school and, although I was born in Milwaukee, I am the son of immigrant parents," Sanchez said. "I grew up experiencing and knowing the kind of struggles that immigrant families face in coming to America … It's an issue I hold very close to me."
Career Services also has future plans to offer further support to students without legal residence. Kestner-Ricketts said they include educating employers about the ease of hiring DACA (Deferred Action for Childhood Arrivals) students, educating PA, PT or MD programs about considering undocumented students and teaching undocumented students how to better sell themselves to employers and graduate programs.
Sanchez said the biggest challenge for YES is gaining support in numbers. He added that students are aware that YES is a legitimate program, but are tentative to get involved.
"There's always a hesitation from students and people in general about being involved in groups that are either very politically active or very vocal in certain things," Sanchez said. "It's very hard to raise awareness when people aren't very open to the kinds of things that are going on."
"Not everyone knows there are undocumented students here," he added. "It's very important to inform the community here that there are immigrants and undocumented students at Marquette."