Marquette within top 40 percent of universities for ROI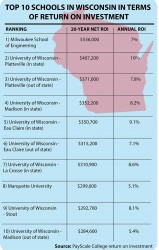 Amanda Ambroso, a sophomore in the College of Health Sciences, decided to take on hefty course loads next semester to cut a year off her college career. Although this was not her original plan, she could still earn a degree without adding thousands of dollars to her debt load, which already stands at $18,000 in loans.
"I chose Marquette for both the program and the people," Ambroso said. "As much as I've enjoyed my time here, saving $40,000 a year is worth skipping my senior year."
In senior surveys from last year's graduation class, 87 percent said they would choose Marquette again if they were starting over their college careers. While this statistic suggests a high level of satisfaction, students like Ambroso may lead other Marquette students to wonder if they are getting the most bang for their buck.
These considerations are only after heightened after PayScale, an online salary, benefits and compensation information company that is well-known for its return on investment calculation, ranked Marquette only 346th of 1,312 U.S. colleges and universities in terms of its return on investment.
RETURN ON INVESTMENT FOR MU STUDENTS
ROI scores look at a student's average net earnings 30 years after graduation by subtracting the cost of both what they would have earned as a high school graduate and the cost of college (tuition, room and board, books and supplies) but also factoring in the average financial aid amount awarded to students.
The current ROI rankings place Marquette in the top 40 percent of universities in the nation for college investment. Among Wisconsin schools, Marquette ranks eighth of 39 institutions. Marquette was the second highest ranked private university on the list, following Milwaukee School of Engineering, which came in first. Marquette is also the second most expensive, at $187,200, coming again in second to MSOE at $192,900.
Still, many higher education experts dismiss ROI calculations due to flaws in the measurement.
Data used to calculate a school's ranking is collected from graduates who successfully complete PayScale's employee survey. Laura Kestner-Ricketts, director of Marquette's Career Services Center, identified PayScale's self-selecting survey population, which only factors graduates who volunteer their information to the database, as one problem with the system. 
The site also lacks a method of verification for people that utilize the site.
To demonstrate the unreliability of the information, the Tribune entered salary information for a journalist living in Milwaukee with a starting salary $100,000. Despite the average starting salary for journalists being $38,400, according to a study by National Association of Colleges and Employers, PayScale blindly accepted this information. For anyone researching journalism jobs, the data will be skewed because fake information was entered into PayScale's database.
On top of these flaws, PayScale's methods are limited to the graduates it includes. Only graduates who are paid with either an hourly wage or salary are included in the calculation, leaving out self-employed, project-based and contract employees who are not factored into a school's ranking.
In addition, only employees who possess a Bachelor's degree are taken into consideration, excluding careers that require advanced degrees. Tyler Stewart, a student in the graduate school, is not represented in his alma mater's ROI calculation. But what irritates him the most is how the ROI measurement depicts a distorted view of education.
"Even if ROI calculations were more accurate, including students pursuing post-graduate work that would ultimately result in higher income, it is still the wrong way to think about the purpose of education," Stewart said in an email.  "It would be like measuring the success of a parent based on his children's income or measuring the quality of a party based solely on how many people show up."

According to undergraduate alumni surveys, 28 percent of 2011 graduates opted for graduate school instead of seeking full-time employment. This means more than a quarter of Marquette's graduating class was not represented when calculating ROI. Those seeking a higher degree would consider their undergraduate education an investment if they are pursuing academia further, but the ROI calculation does not account for this population.
This explains why schools who produce a large amount of science, technology, engineering and mathematics degrees have higher rankings than even Ivy League schools. For example, the Colorado School of Mines had a higher ROI ranking than Princeton University, Dartmouth College and Harvard University.
ALTERNATIVE MEANS TO TELL IF MU IS WORTH IT
According to the Office of Institutional Research and Analysis, the average Marquette student was awarded $25,023 in financial aid for the 2012-2013 school year. Despite this financial assistance, OIRA reported the average debt of a 2013 graduating senior to be $33,775. This number only looks at students who borrow money at Marquette, not including private loans, so a student's debt may in fact be much greater.
For the 2012-13 school year, Marquette's default rate for a one-year Perkins loan was 5.61 percent. While this rate is still below the national average, four years ago the default rate stood only at 3.87 percent, indicating more graduates cannot pay back their loans.

According to undergraduate alumni surveys, 67 percent of graduates in 2009 were employed full-time within a year while 72 percent of graduates in 2011 were employed full-time after 12 months. This suggests an incremental increase in the number of Marquette graduates landing jobs.
It is unclear whether graduates are able to get jobs in the field which they majored in or if they are "settling" out of fiscal necessity. This data has never been collected. To address this, the OIRA is undergoing an effort to gather in-depth post-graduation data.
"(With this information), we can finally answer questions about what students do after Marquette," said Alexandra Riley, director of OIRA, in an email. "We're hoping to be able to report the data out by college and perhaps even by major for some of the larger majors."
Riley reported data was collected from last year's graduates and is starting to gather data for this year's seniors. However, she noted the OIRA depends on graduates responding after they leave campus.
"These data are so important to understanding the full experience of a Marquette student, so we can get a complete and accurate picture of post-graduation outcomes."
NON-CASH RETURNS ON INVESTMENT
No matter what the post-graduation outcome is, there is no denying the investment involved in attending Marquette. Patricia Morrison, a 1972 Marquette alumnae, said she was fortunate enough for her parents to finance her education.
"Students should consider (ROI) now more (than I did) because of the increased cost in higher education," Morrison said.
Even though Marquette student's average debt remains higher than the national average, students consistently report a high level of satisfaction with their college choice. Last year, 96 percent of seniors indicated they were satisfied with their Marquette education on their senior surveys.
"The people who make these ROI rankings don't take some things into account," Kestner-Ricketts said. "When I look back on my college years, I don't think about the debt I came out with. I think about the friends I made and the classes I took."
A 2011 study by the Pew Research Center found less than half of survey respondents said the main purpose of college was to learn work-related skills. Among the respondents who graduated from a four-year college, almost three-quarters reported their college education as helping them grow intellectually while only 55 percent reported college being useful in preparing them for a job or career.
"The best thing about Marquette for me was the people I met," Morrison said. "I learned as much from the friends I made as I did in the classroom. And I'm still friends with them now."
Her opinion holds true with current students 40 years later.
"I know I'm spending a lot of money to go here," said Ola Czyzewski, a sophomore in the College of Arts & Sciences. "But, I think the benefits of the entire college experience, not just my education, outweigh the cost of going to Marquette."
Leave a Comment