Marquette upsets No. 16 Lehigh in season opener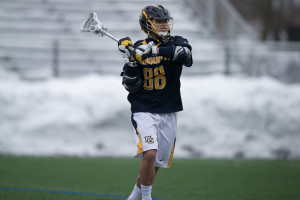 Marquette lacrosse kicked off its season with a bang, earning the program's first win over a ranked opponent Saturday in a 10-9 upset of No. 16 Lehigh.
Graduate student attackman Jordan Greenfield scored a hat trick and added two assists in his Marquette debut. Sophomore midfielder Ryan McNamara scored two goals and an assist and junior attackman Conor Gately had a goal and two assists.
Sophomore netminder Jimmy Danaher made 10 saves in the winning effort, including some at point-blank range.
"I don't want to over dramatize it, or downplay it," coach Joe Amplo said. "Nobody knows who we're going to become. No one knows who Lehigh is going to become. While there is value in preseason rankings, it's only one win, and I want our guys to keep that in perspective."
Redshirt junior midfielder Kyle Whitlow pushed Marquette ahead 10-8 with five minutes left in the game, but Lehigh junior midfielder Kurtis Kaunas scored with two minutes left to cut the lead in half. Marquette won the faceoff, and was able to kill all but five seconds off the clock. Lehigh struggled with the clear, and the clock ran out.
"At the time (the goal) wasn't a big deal for me," Whitlow said. "I took a shot early in the game and the goalie saved it up high. I thought I'd put it down by his legs, and it went in."
Marquette benefitted from strong faceoff play from freshman Owen Weselak. The coaching staff decided to insert Weselak in redshirt junior K.C. Kennedy's spot in the middle of the game, which seemed to pay off. Weselak went 9-of-15 on faceoffs. There were some jitters in his first NCAA game, but it didn't affect his performance.
"When coach Amplo turned to me and said, 'You've got the next face off,' I didn't know what to do," Weselak said. "I ran over to get a ball and practice my hand motions real quick. They scored, and then I was in the game… After the first one I got more confidence."
Weselak said he thought he might get an opportunity to play, but was surprised with how early it came.
"He went in and won his first one," Amplo said. "He did a real good job… I feel like we have three good guys all competing for the (faceoff spot)."
Marquette fell behind 2-0 early, but Greenfield and junior Jacob Richard responded to tie the score. After trading punches to make it 3-3, the Golden Eagles scored two straight to bookend halftime. Marquette led the rest of the way.
The score alternated between a one-and two-goal lead for the entire third quarter. Marquette's offense was significantly more comfortable than it was in the team's last matchup. Greenfield's goal with six minutes left in the third quarter matched the six goals Marquette scored in last year's game against Lehigh. Each side scored at the tail end of the third, giving Marquette a 7-5 lead.
After winning the faceoff at the beginning of the fourth the Golden Eagles killed nearly five minutes with a long possession, capped off with a Gately goal.
"That possession was probably the best possession we've ever had here," Amplo said.
However, it wasn't easy sailing for the Golden Eagles. Last season's leading scorer for the Mountain Hawks, Dan Taylor, scored twice in the fourth to make it a one-goal game. The Golden Eagles survived the pressure, and walked away with their first opening weekend win in program history.
"When push came to shove he did step up like great players do," Amplo said regarding Taylor. "I was very threatened whenever he did touch the ball… I thought we did a decent job with him in spots and there were other spots where we had some breakdowns we need to improve upon."
Marquette saw the game as a good example of the team's ability to face adversity.
"We kept our confidence on offense," Whitlow said. "I didn't just want to just try and hold the lead. I wanted to keep pushing the pace."
Marquette (1-0) will face No. 17 Hofstra next Saturday in the Pride's season opener. Amplo has strong ties to this game, spending 10 years on the Hofstra coaching staff after graduating from the school in 2000. The Golden Eagles defeated Hofstra 11-9 in the teams' first matchup last season.
Leave a Comment