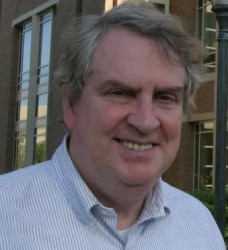 Political science professor John McAdams said on his blog Wednesday that Marquette started the process to revoke his tenure and dismiss him from the faculty.
McAdams, known as a outspoken conservative on campus, was relieved of his teaching duties over winter break after publicly criticizing a teaching assistant for not allowing discussion about gay marriage in class. The university opened a review of his conduct and temporarily banned him from campus in the duration of the review.
The incident received national attention and sparked protests from the Westboro Baptist Church and student groups in December.
The teaching assistant, Cheryl Abbate, a graduate student studying philosophy, has since transferred from Marquette and moved to the University of Colorado-Boulder because of the incident.
"Your conduct clearly and substantially fails to meet the standards of personal and professional excellence that generally characterizes university facilities," said Richard Holz, Dean of the College of Arts & Sciences, in a letter to McAdams' lawyer. "As a result, your value to this academic institution is substantially impaired."
Holz also said in the letter that McAdams did not recognize Abbate as "a person to be treated respectfully and with dignity" and that McAdams "used her as a fool to further (his) agenda."
The letter also said McAdams has the option to object to the decision in a timely manner. If he decides to do that, Marquette will provide conferences with the university's Faculty Hearing Committee.
"In real universities, administrators understand, or more likely grudgingly accept, that faculty will say controversial things, will criticize them and each other, and that people will complain about it," McAdams said on his blog. "They understand that putting up with the complaints is part of the job, and assuaging those who complain the loudest is not the best policy. That sort of university is becoming rarer and rarer. Based on Holz' actions, Marquette is certainly not such a place."
McAdams has been a political science professor at Marquette since 1977.
University President Michael Lovell issued the following statement on the university's Facebook page Wednesday night:
"Until all procedures required under university rules and policies are complete, we will not publicly disclose further details. I do, however, want to reinforce important principles that I have discussed previously that will be at the forefront of our efforts going forward. The decisions here have everything to do with our guiding values and expectations of conduct toward each other and nothing to do with academic freedom, freedom of speech, or same-sex marriage. As I noted in my recent Presidential Address, our guiding values were drafted with extensive input from our campus community to keep us all accountable and to provide the foundation for a collegial environment based on mutual respect."
Story continues below advertisement