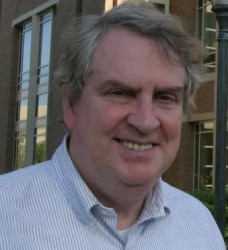 Two groups of students faced off in demonstrations on campus Monday morning, taking both sides of the controversy surrounding the university's decision to ban political science professor John McAdams from campus.
An estimated 30 to 40 students, many from the conservative group Turning Point USA, appeared in front of Zilber Hall to protest Marquette, which relieved McAdams of his teaching duties with pay last week while it reviewed his conduct after he criticized teaching assistant Cheryl Abbate for not allowing discussion of gay marriage in an ethics class.
"Overall, we're protesting a teacher who was suspended for free speech," said J.R. O'Rourke, president of Marquette's Turning Point chapter. "I really think the university has to tread water very carefully. It gives Marquette a really bad image."
Another group of graduate students demonstrated a block away from Turning Point, supporting Abbate and criticizing McAdams for comments he made against Abbate on his blog, "Marquette Warrior."
"We are aware of a small number of protesters representing multiple viewpoints today," said university spokesman Brian Dorrrington. "From the university's standpoint, our review continues and during this time, professor McAdams has been relieved of his teaching duties."
O'Rourke also said that McAdams' classes for the spring semester have been cancelled. The College of Arts & Sciences has not confirmed the cancelation of McAdams' classes but they are not listed on the university snapshot for spring 2015.
The two protests came a week after news emerged that Abbate decided to transfer from Marquette next month to the University of Colorado-Boulder, according to a blog for philosophy professionals called Daily Nous.
Abbate submitted a statement to the Daily Nous:
"Although the past month has been a very difficult and distressing time for me, the support and encouragement I have received from philosophers around the world has made this all the more bearable. I would like to thank each and every individual who sent a personal message to me, sent a letter to the Marquette administration on my behalf, and/or signed one of the online statements of support."
The Daily Nous, maintained by Justin Weinberg, an associate professor of philosophy at the University of South Carolina, noted that Abbate had received hate mail and threats as a result of the incident.
A number of philosophy professionals, including the graduate student organization at Harvard University, have submitted letters in support of Abbate to Richard Holz, dean of the College of Arts & Sciences.
Marquette submitted a statement to media on the issue of its graduate students: "Marquette University wants to emphasize that all of our graduate student teaching assistants are students first. As students, they are learning their craft and it is our expectation that they are mentored and supported by our faculty."