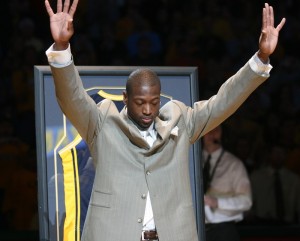 The city of Milwaukee found a new ally in the fight to improve childhood summer reading: former Marquette basketball star Dwyane Wade.
The Marquette alumnus and Miami Heat player pledged $195,000 over three years starting in 2015 to fund the "Live to Dream" summer reading program, hosted by the university's Ralph C. Hartman Literacy and Learning Center.
He also encouraged others to match that amount to extend the program six years through 2020.
"We believe that every child deserves a shot, and I am proud to impact children on the very same campus of Marquette University where I was a student," Wade said in a news release. "My hope is that the children will envision themselves as future Marquette students where they can one day transform their lives through higher education."
The program will be open to second- and third-graders from Milwaukee, and will expand upon citywide and nonprofit efforts to address "summer slide" — or the learned material kids forget while away from school during the summer months.
Studies show that reading just 15 minutes a day could prevent summer slide and can improve educational outcomes for students. It can also make a huge impact on Wisconsin's achievement gaps between black and white youth, since disadvantaged students from the city are less likely to read in the summer.
"I'm impressed by Milwaukee's commitment to increasing children's reading achievement," said Kathleen Clark, director of the Hartman Center.
The Hartman Center is a teaching, research and service site where undergraduate teachers in training can tutor Milwaukee students in math and reading. About 2,800 kids have been tutored throughout the center's 20-year existence, the Milwaukee Journal Sentinel reported.
Clark said the center's summer programming will offer 60 hours for two hours a day at five days a week. Transportation will be provided for children to and from the center.
"I'm thrilled that Dwyane Wade is enabling the Hartman Center to provide a summer reading program for Milwaukee children," she said. "This is a terrific opportunity to further serve Milwaukee children."
Wade's gift was made through his Wade's World Foundation and will start off "Live to Dream" at the Marquette game against the University of Wisconsin-Madison Dec. 6. The foundation is encouraging fans to bring new and gently used books for elementary-age children to the game. Fans will be able to drop off the books when entering the BMO Harris Bradley Center.
"While Dwyane has made an impression on basketball fans across the world, there is no greater gift and impact one can make than in giving back to the community for an important cause," University President Michael Lovell said in a news release.
Story continues below advertisement