Student controversy sparks Westboro protest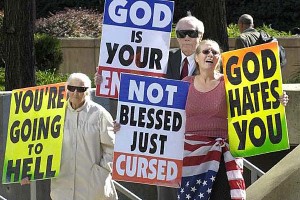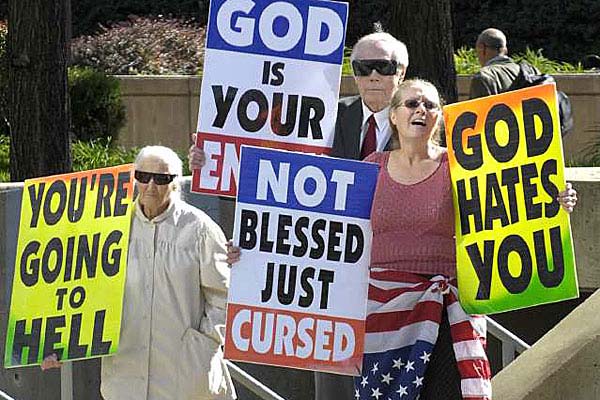 The university announced Monday that it will review a widely publicized incident regarding a disagreement between a student and an instructor about homosexuality, a day after the Westboro Baptist Church announced plans to picket campus in response.
When asked about the review, University Spokesman Brian Dorrington responded on behalf of Richard Holz, dean of the College of Arts & Sciences.
"Marquette University is reviewing both a concern raised by a student and a concern raised by a faculty member," Dorrington said in an email. "We are taking appropriate steps to make sure that everyone involved is heard and treated fairly. In compliance with state and federal privacy laws, we will not publicly share details, including the results of the reviews."
The disagreement was first reported Nov. 9 on political science professor John McAdams' blog, Marquette Warrior, before it was picked up nationally. It occurred between philosophy doctoral student Cheryl Abbate and an unidentified student, who reported the incident to McAdams.
McAdams said he was told about the investigation at a meeting with Holz before Thanksgiving break. In the meeting, McAdams said Holz was not clear who was being investigated. However, McAdams concluded that he would be involved in the investigation, even though it was not explicitly stated.
BACKGROUND ON THE INCIDENT
The incident occurred when Abbate's Theory of Ethics class discussed philosopher John Rawls's equal liberty principle, which states that each person has an equal right to the most extensive liberties compatible with similar liberties for all and possible violations of it.
"When one student suggested that a ban on gay marriage violated the principle, Abbate quickly moved on to the next topic, as there were more nuanced examples to discuss before the end of class," according to an article from Inside Higher Education.
Another student approached Abbate after that class and said he was "very disappointed" and "personally offended" that she had not considered his classmate's example about gay marriage, according to the student's recording of the conversation, which Insider Higher Education obtained.
"The student said he had seen data suggesting that children of gay parents 'do a lot worse in life,' and that the topic merited more conversation," according to Inside Higher Education.
Abbate disagreed, according to the student's recording, and the conversation ended with the student saying "it's still wrong for the teacher of a class to completely discredit one person's opinion when they may have different opinions" and that it is the student's "right as an American citizen" to challenge the idea. Abbate said the student didn't "have the right, especially (in an ethics class,) to make homophobic comments or racist comments," according to the recording.
She also invited the student to drop her class if he disagreed.
Abbate said McAdams mis-attributed the quote "everyone agrees with gay rights and there is no need to discuss this" to her in his blog post. The quote is not on the student's recording, according to Inside Higher Education.
McAdams told Inside Higher Education that all of the quotes in the blog post were taken from the student's audio recording, "except his characterization of what had happened before the recording, when the topic of gay marriage was first raised. He shared an email he sent to Abbate for her input the day he published his report, and said he published that evening, after he did not hear back."
"If the instructor had told the student 'I didn't think that was a particularly good use of class time,' no harm no foul," McAdams said. "The instructor has every right to decide what is worth class discussion time and what isn't. If somebody said something in an utterly uncivil way, the teacher has the right to come down on them. But you don't start with the assumption that any argument is going to be offensive. That was my beef and the basis of my blog post."  
Abbate did not respond to the Tribune's request for comment.
"As a university, we inform and engage students on a comprehensive view of societal issues," Dorrington said in an email. "Like colleges and universities across the country, debate and discussion are essential elements of our intellectual environment at Marquette, where our faculty and students have the ability to explore ideas, express opinions and participate in discussion."
The story spread throughout November, leading to coverage from Fox News, American Thinker,   LGBT Weekly and BizPac Review.
After the wide exposure, The Westboro Baptist Church of Topeka, Kan., publicly known for its anti-homosexual views, announced on Twitter Sunday its plans to protest the incident Dec. 8 from 9 to 9:30 a.m in front of the Church of the Gesu.
WESTBORO'S PICKET PLANS
The tweet, directed at the Tribune and Marquette's twitter accounts, included a press release picture from the church. "Tell us why the media is telling this despicable tale: Teacher to student: 'If you don't support gay marriage, drop my class'? Why are your students publishing junk-law articles on the subject of fag marriage if (Marquette) is a 'Christian' school?" the press release states.
The church describes itself on its website as strongly adhering to the Bible's teachings. "(We) preach against all form of sin (e.g., fornication, adultery [including divorce and remarriage], sodomy), and insist that the sovereignty of God and the doctrines of grace be taught and expounded publicly to all men," its website states.
Some students are planning anti-protests in response. At least two Facebook events have been created and about 200 people plan to go.
"I'm trying to organize an anti-protest for the Westboro Baptist Church protest," said Douglas Floski, a senior in the College of Business Administration. "I think we should go there and remind them that it's 2014 and not 1950."
The Westboro Baptist Church is known for its pickets that have included "God hates fags" signs. Its beliefs and actions have been explored through a few documentaries, including 2007's Fall from Grace.
Leave a Comment