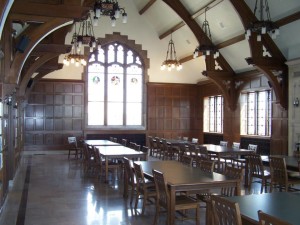 A letter to the Marquette community:
The following department chairs in the Klingler College of Arts & Sciences deplore the recent treatment of a philosophy graduate student instructor by political science professor John McAdams on his Marquette Warrior blog.  We support Ms. Abbate and deeply regret that she has experienced harassment and intimidation as a direct result of McAdams's actions.
McAdams's actions—which have been reported in local and national media outlets—have harmed the personal reputation of a young scholar as well as the academic reputation of Marquette University. They have negatively affected campus climate, especially as it relates to gender and sexual orientation.  And they have led members of the Marquette community to alter their behavior out of fear of becoming the subject of one of his attacks.
Perhaps worst of all, McAdams has betrayed his role as a faculty member by pitting one set of students against another, by claiming the protection of academic freedom while trying to deny it to others, and by exploiting current political issues to promote his personal agenda. This is clearly in violation of this passage from the Academic Freedom section of Marquette's Faculty Handbook:
"The college or university teacher is a citizen, a member of a learned profession, and an officer of an educational institution. When he/she speaks or writes as a citizen, he/she should be free from institutional censorship or discipline, but his/her special position in the civil community imposes special obligations. As a man/woman of learning and an educational officer, he/she should remember that the public may judge his/her profession and institution by his/her utterances. Hence, he/she should at all times be accurate, should exercise appropriate restraint, should show respect for the opinions of others, and should make every effort to indicate that he/she is not an institutional spokesperson."
McAdams has ignored both the spirit and the letter of this statement and has failed to meet the standards we aspire to as faculty, as well as the broader ethical principles that guide Marquette's mission as a Jesuit, Catholic institution.
Other members of the Marquette University community are invited to join us by "signing" this letter in the comment section.
-Lowell Barrington, Political Science
-Nancy Snow, Philosophy
-James Marten, History
-Jane Peterson, Social and Cultural Sciences
-Krista Ratcliffe, English
-John Grych, Psychology
-Anne Pasero, Foreign Languages and Literatures
-Robert Masson, Theology​
Story continues below advertisement