EDITORIAL: New housing plan could alienate some MKE students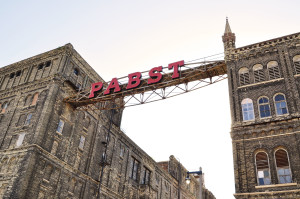 The City of Milwaukee recently approved plans to convert the historic Pabst Brewing Company building into housing for international college students. The building, which currently sits empty off 9th St. and Juneau Ave., would possibly house international students from Marquette, Milwaukee Area Technical College, University of Wisconsin-Milwaukee and Concordia University Wisconsin. Some space will be reserved as extended-stay hotel rooms intended for students' families or university visitors.
Marquette is not affiliated with the project financially yet upperclassman international students will have the option to reside in the complex.
Additional student housing is always welcome news for these urban campuses where housing is limited. However, this project's focus on only housing international students raises concerns. Such a concentration may end up isolating a number of international students from their campuses, reducing their ability to integrate into the university community and fully experience American college life.
Current housing initiatives for incoming international students, such as Marquette's Global Village, offer exchange students a real community to live in during their time here. The program specifically makes sure to involve current undergraduate students, or "ambassadors," as a way to connect international students with Marquette students, allowing students to easily transition and integrate into Marquette's larger community.
By living together and participating in Global Village programming, students are able to learn about each other's cultures and gain a broader global perspective. Students from foreign countries can feel like an integral part of the Marquette community rather than merely visitors.
Similar options are offered through most of the study abroad programs available to Marquette students. Students abroad can take advantage of housing options that work to integrate them into the local community. Programs such as Marquette en Madrid offer homestays, allowing students to live with a host family, while programs such John Cabot University in Rome and the National University of Ireland, Galway allow participants to live in student residences on or near their host campus.
Even when students opt for independent housing, there is still a chance for intercultural engagement with local students and residents living in the area. Ultimately, the mission, like that of Global Village, is to expose students to local culture and people while ensuring a smoother transition into a new environment.
The Pabst housing option, as of now, stands in contrast to this particular mission. The Pabst building, which stands removed from all the university campuses, could alienate international students and keep them from feeling like a part of their campus community. The absence of American students from this housing also reduces the opportunity for international students to gain firsthand exposure to local youth customs and experiences.
Some logistical matters also need to be clarified. While the building stands fairly close to Marquette and MATC's campuses, it is over five miles away from the CUW–Miller Park Way Center and four miles away from UWM. It raises issues about transportation, such as whether students living in the building would be offered a shuttle service, or if they would be expected to commute. Such distance may discourage students from living there and they could opt to live elsewhere on campus, thus defeating the building's purpose.
All things considered, however, the new housing venture can still succeed. Rather than limiting the building to solely housing international students, the new dormitory could be treated like another living-learning community, allowing current students from each school to apply for spots in order to integrate international students with their campus communities.
The building is full of promise, but administrators from each school must be cautious of inadvertently isolating a portion of its student body by housing them away from campus and apart from other students. The schools involved must remember to work toward the creation of a solid campus community atmosphere for all of its students.