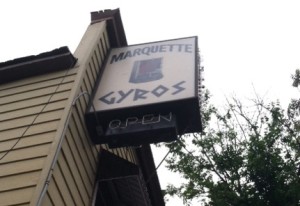 Demolition for the former Marquette Gyros location was announced Monday afternoon by the university and is expected to begin sometime during this week, although a day was not specified.
The property, 1600 block of W. Wells St., is located between Sobelman's @ Marquette and Papa Johns. The building is a university-owned space, and was vacated June 30 when the university declined to renew Marquette Gyros' lease.
"After multiple meetings with the restaurant owner, it became clear that he could not reach the terms of his agreement," said Jenny Alexander, Marquette's director of purchasing, in a statement in June. "The university is exploring options for how the space will be used in the future."
Marquette said the decision was made because of the condition of the structure. No announcement has been made for what will be done with the land. Discussions for potential options will begin in the spring.
Story continues below advertisement