Jack Antonoff discusses Bleachers, upcoming MKE show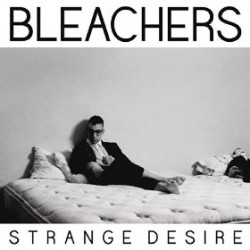 Milwaukee is in for a show of old performers and brand new bands as Jack Antonoff returns to Turner Hall Ballroom to show off his new project Bleachers.
Opening for Bleachers is new Nashville-based group Wild Cub. The band released their first album, "Youth," in 2013 and has been building a loyal fan base ever since. With some film influence, Wild Cub's music is vivid and diary-like, giving this band the flawless set list that serves as the perfect opener for Bleachers.
Lead singer and songwriter of Bleachers Antonoff came up with his ideas for the band's music while on tour with popular pop band FUN., for which he played lead guitar and helped in songwriting. Antonoff explained that once an idea sprouts within him, it is almost impossible for him to shy away.
"You just need to follow ideas when you have them," he said. "Being inspired and writing songs, sometimes they come to you while you're making dinner, other times while you're on an airplane. Sometimes they come to you when you should be eating or sleeping. You'll have to follow your (ideas) because if you don't, you'll want to kill yourself."
This passion quickly seeped into Bleachers' music and is visible in their debut album, "Strange Desire." The seasoned singer, having been in numerous bands such as FUN. and Steel Train prior to the start up of Bleachers, knew full well when he started to put together his song ideas that an album was developing.
"I just started to have a bunch of ideas that all started to become one thing," Antonoff said. "And when I would listen to the couple songs that I was working on in a row, I realized that they were coming together. They were one."
Antonoff has plenty of experience playing in other bands. Even though he is able to pinpoint his favorite song of all time as Tom Waits' "Hold On," he does not let other artists flow into his music during the song writing process.
"A lot of the time when I'm writing an album or recording an album, I'm kind of listening to nothing else except what I'm working on so that I don't get too much intrusion coming from other directions," he noted. "I don't like to bring in other music to propagate it."
The release of his first single as Bleachers, "I Wanna Get Better," became the band's claim to fame and helped them make a swift move into the spotlight. As other singles followed, such as "Rollercoaster," "Like a River Runs" and "Shadow," the band's unique music became clearer to listeners. Bleachers' sound, disconnected and suburban, steers clear of associating itself with any specific genre.
"I don't really call my music anything," Antonoff said. "I don't really think about that at all. It doesn't really work that way for me."
Antonoff feels that if he were to label his sound he would be obligated to stick with that genre and not be able to stray his style from it; it would stifle his creativity. The kind of music that Bleachers makes, though, is connected with the band's name.
'"Bleachers' is a word that just came to me very randomly," Antonoff explained. "Being in a band is not so much about having a name that packs a meaning within but it's more about having a name that packs meaning into your music. Bleachers just felt right. It felt very connected to the feeling that I had about the music."
Antonoff also believes Bleachers' music speaks very much for itself. Although the lyrics can be gruesome and dark at times, "Strange Desire's" message, in total, is one of hope.
"Telling the stories of things you've been through, for me, gives your audience something to relate to because of the concept of someone being very honest," he said. "It makes you feel less alone. I think the most valuable thing a person can do is paint the picture of some sort of fantasy life just because it can bring people together. Honesty, though, is what gives me a lot of courage."
Lucky for Milwaukee, Antonoff intends to bring his honest, passionate music back for round two. After playing at Summerfest 2014, he knows that Milwaukee expects nothing less than a high-energy show from Bleachers.
"We're not going to come to Milwaukee and bring anything less than everything we've got," Antonoff said. "Because I feel like the crowd knows what we can do so we've got to be that."
Besides potentially hitting up Sobelman's for a dosage of cheese curds before or after his show, Antonoff is determined to give Milwaukee the best possible show with Wild Cub this Friday night at Turner Hall Ballroom. After all, Bleachers said from the start that it only wanted to get better.
Bleachers is performing at Turner Hall Ballroom at 8:00 p.m. Friday. Nov. 14. Tickets can be purchased online at pabsttheatre.org or at the on-site box office.
Leave a Comment