Dogg Haus: story behind late night stop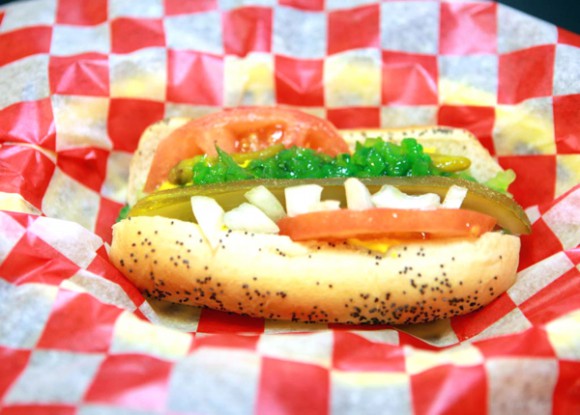 "It's my business, my passion." 
This passion stays with The Dogg Haus owner, Mazen Muna, every day. It has been a decade since The Dogg Haus opened its doors to the Marquette community, making a decade of late night snacks, millions of cheese curds and continuous growth.
Muna began his journey at the University of Wisconsin-Milwaukee as a pre-med student. Soon after, his goals quickly changed along with his major. With a degree in finance and marketing, Muna, 35, prides himself on the businesses he runs throughout the Milwaukee area, especially The Dogg Haus.
Since its doors opened in 2006 on Wells Street, The Dogg Haus has become a meeting place for students and Milwaukeeans alike. The campus location is the second of nine in the Midwest, spanning from Minneapolis to Milwaukee.
Muna said his company focuses on four key principles: quality, cleanliness, honesty and, the most important to him, customer service. He understands what it takes to create a business that will be successful both economically and personally. The relationships created at his locations are something he is proud to see continue each and every year.
"There's a difference between running a business for the sole purpose of making money and … running a business for the love of it," Muna said. "As corny or goofy as it sounds, when people come in, we just want them to be themselves, and that's how friendships are made. Whether it's our staff or if it's with other people at Marquette, it's about creating that environment that really sets us apart."
Personable staff and a knowledgeable owner allows students and local city dwellers to enjoy the tasty treats offered at The Dogg Haus. With the use of Vienna Beef products, The Dogg Haus has won "Best Hot Dog" from multiple publications including Milwaukee Magazine and The Shepherd Express.
"We enjoy it, and we create an atmosphere that is unlike any other on the campus," Muna said. "There's this transition from leaving wherever you were – a house party, whatever bar, whatever night event someone was at – and coming here, being able to enable students to always feel welcome there."
The top-notch customer service and award-winning menu items keep students raving about the restaurant.
"I like that everyone is always friendly," said Katherine Hillmer, a junior in the College of Nursing. "I think the company is overall just a fun, laid-back restaurant that offers decent food for a pretty cheap price."
Drew Albrecht, a junior in the college of communication, said The Dogg Haus was the first restaurant he visited on campus. Him and his mother were looking for a new place to check out for lunch.
"It's great for the atmosphere on weekends being stocked with people, and I order the Wisconsin Dogg every time with cheese curds," Albrecht said.
Cara LaBelle, a sophomore in the College of Arts and Sciences, also raved about the atmosphere of the place.
"You can go in there, and you're guaranteed to know at least five people," LaBelle said. "My favorite experience was my friends and I all got separated one night, and we just all ended up finding each other waiting in line for the bathroom at like 2 a.m."
"I've always had a great experience with Dogg Haus," said Claire Klement, a junior in the College of Health Sciences. "My friends and I will usually go there after a night out to get some cheese curds."
Klement went on to explain that she enjoys going there after basketball games or for a late night snack due to the large selection of food offered on the menu. Elizabeth Gevis, a junior in the College of Education, echoed Klement's thoughts.
"It's definitely my favorite late night snack food of choice," Gevis said. "It's a fun atmosphere that adds something unique to the Marquette community and Milwaukee as a whole. Their cheese curds with ranch – can't forget the ranch – are usually my go-to menu item. I really don't think I've ever had a bad experience there, and I would say they are very consistent and always put the customer first."
The experiences of students speak to the positive atmosphere that The Dogg Haus offers to anyone that steps through the doors. Another highlight of the business is the crazy rushes that come during each weekend.
"The wall-to-wall, shoulder-to-shoulder chaos happens on the weekends from Thursday to Saturday night and also when there is a local event such as a basketball game," Muna said. "I'm grateful for how many people come, and we deal with these rushes of people by welcoming them with open arms."
Although it seems as though the line of students never ends, Muna, and the staff at The Dogg Haus take on the challenge wholeheartedly, welcoming every person and every order. With the large number of people that come to the restaurant at once, it is no surprise how much food the company goes through. Though Muna could not disclose the exact amount, the number of cheese curds sold is more than imaginable.
"It got to a certain point where the factory we work with for our product had to give us a warning," Muna explained. "We were going so fast that they needed to slow down on sales. We had to work with the main manufacturing facility on keeping up with us."
A rate of production too quick for a manufacturing factory indicates well enough the amount of cheese curds that Dogg Haus sells. These never-ending sales attest to the amount of heart that Muna puts into every location he owns.
"I enjoy every business that I run," Muna said. "I give each a little love, and I get a little love back and at the end of the day. I'm happy with what I'm doing. And as I like to say, if you lose your friends anywhere in Milwaukee, at the end of the night, you'll find them at The Dogg Haus."