Holocaust survivor recalls internment experiences
Eva Kor was 10 years old when she and her twin sister Miriam were separated from their parents and two older sisters on the selection platform at the Auschwitz concentration camp in Poland. They never saw them again.
Kor told Marquette students her life story in a packed Weasler Auditorium Thursday night, as a part of Marquette Student Government's speaker series. Nazis selected Kor and her sister to participate in Dr. Josef Mengele's twin experimentation. Mengele was a Nazi doctor known for his sociopathic behavior.
"They would take a lot of blood from my left arm and give me a minimum of 5 injections into my right arm," Kor said. "Those were the deadly ones."
Although Kor never learned the contents of those injections, she said she believes they were germs and diseases. After one round of injections she became very ill and developed a high fever.
"The next morning Dr. Mengele came in with four other doctors … he looked at my fever chart and then declared, laughing sarcastically, 'too bad she's so young, she only has two weeks to live,'" Kor said.
But she did not give up easily, vowing silently to prove Mengele wrong and become reunited with her sister. After two weeks her fever broke and three weeks later Nazis released her from the hospital barracks and allowed her to return to Miriam.
While Eva was in the hospital, Nazis kept Miriam in isolation so they could experiment on her when Eva died.
"Would I have died, Miriam would have been rushed to Mengele's lab, killed instantly with an injection to the heart and then Mengele would have done the comparative autopsies," Kor said.
The Soviet Army liberated Auschwitz on Jan. 27 1945, saving both Eva and Miriam. In 1993, Miriam passed away from lung cancer.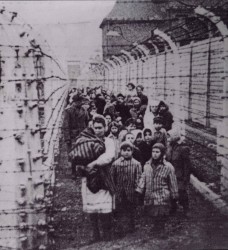 Kor made national news when she forgave Mengele at an event celebrating the 50th anniversary of the liberation of Auschwitz.
"Immediately I felt that all of the pain I carried around was lifted from my shoulders, that I was no longer a victim of Auschwitz, that I was no longer a prisoner of my tragic past," Kor said. "I was free of Auschwitz and I was free of Mengele."
In addition, Kor founded CANDLES, a Holocaust museum and education center in Terra Haute, Ind. that seeks to educate future generations on the events of the Holocaust.
"It's very impressive for (Kor) to tell personal stories and inspiring that she's able to forgive in spite of what happened," said Anna Stankovich, a sophomore in the College of Arts & Sciences who attended the event.
Kor will appear in a Jan. 27 CNN documentary on the 70th anniversary of Auschwitz's liberation.
Leave a Comment