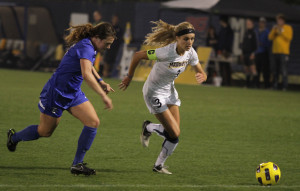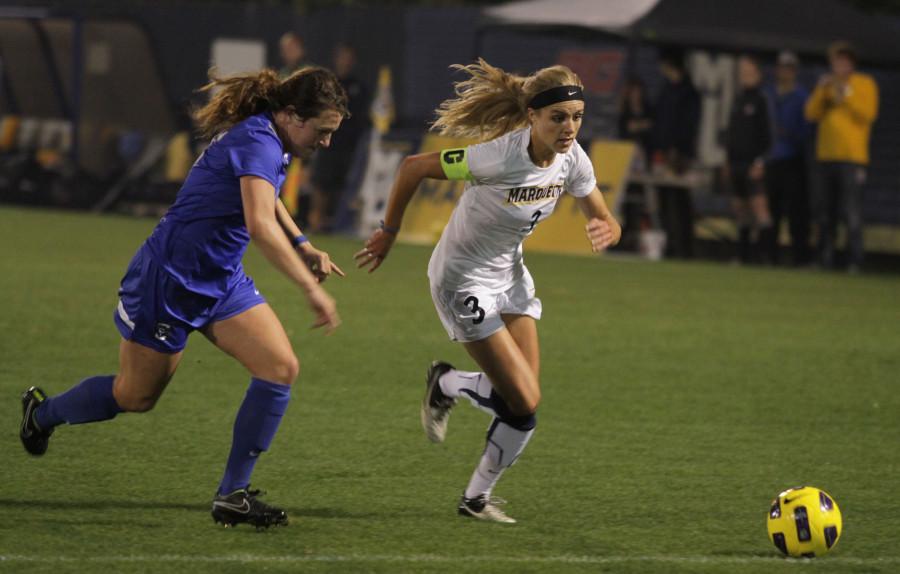 With home field advantage already clinched for the first round of the Big East Championships, the Marquette women's soccer team will conclude the regular season on the road against Butler.
The Golden Eagles (9-7-2, 5-2-1) won their first road game of the season Saturday against Providence and will look to do the same against an underrated Butler team, which will look to play spoiler. As for Marquette, a win paired with a Georgetown loss or tie would give the team the third seed, and any other result would keep it in the fourth spot.
The Bulldogs sport a disappointing 2-4-2 conference record, but played better at home throughout the season, losing just twice. Butler lost five of its last six games, but tied DePaul and lost to St. John's in extra time. The Bulldogs went to extra time in four of their last five games, refusing to cede any points to the opposition. Playing so many lengthy games may fatigue the Bulldogs sooner than the Golden Eagles, but Marquette cannot be complacent, as Butler can score when given the opportunity.
Butler is led by three players with double-digit point totals – senior Elise Kotsakis (21), junior Sophia Maccagnone (18) and freshman McKenzie Muchow (12). The trio makes up just more than half of the Bulldogs' point totals. Limiting these three, just as they did with Providence striker Catherine Zimmerman will be the key to success for the Golden Eagles.
Marquette will counter with its own fiery offense. Sophomore Darian Powell enters the road match with a three-game scoring streak and senior midfielder Alex Heffron will look to build off a two-goal campaign at Providence. Against Butler keeper Jayne Heinrich, who made the least amount of saves and is ranked eighth in the Big East in save percentage, the two, along with senior midfielder Mary Luba and sophomore midfielder Liz Bartels, should be able to find the back of the net.
The Golden Eagles travel to Butler after a full week of rest, which proved to be beneficial against Providence. With the ability to rest up, Marquette will be ready to go in the season finale.
Kickoff against Butler is 3 p.m. Friday in Indianapolis, Ind.