Fans gathered last weekend at Milwaukee's comic convention, Fantasticon, to celebrate all things popular culture in comics, cartoons and other variations of entertainment.
2014 marks the first year Fantasticon appears in Milwaukee. The convention was split into three days, compiling over 20 hours of scheduled events that ranged from Geek Speed Dating to a lecture on podcasting. The events were held at the Crowne Plaza Airport Hotel on Milwaukee's south side.
Friday afternoon kicked off the convention with a presentation from Novus Magic, followed later in the evening by a VIP party featuring stars from television shows "Arrow" and "The Flash." The day concluded with a late-night screening of "Spaceballs" for the "Movies in Your PJs" event.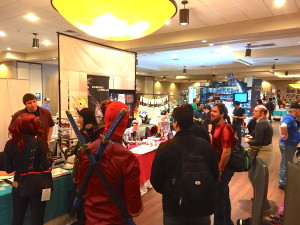 On Saturday morning, fans witnessed a Star Wars lightsaber battle followed by a Q&A panel for the upcoming "Star Wars Episode VII." The day was capped off with an imperial ball as fans showed off their most elaborate Star Wars costumes. Comic fan James Tampa stole the show as he showed off an impressive Darth Vader costume.
Tampa traveled all the way from Aurora, Illinois, to attend Fantasticon. His Vader costume drew heavy attention from fans as he posed for pictures and greeted fellow comic-lovers.
Tampa believes his passion for comic book entertainment directly relates to its power to transport readers to a different world.
"[Comics] take readers somewhere they would love to be in their lives," Tampa said. "People want adventure and excitement. That is what [Fantasticon] offers."
Fantasticon also offered opportunities for fans to meet guest stars through discussion panels and autograph sessions. Notable guests included John Barrowman ("Doctor Who"), Caity Lotz ("Arrow") and Chad Rook who stars as the Weather Wizard in the brand new CW series "The Flash."
The actors were not the only ones with Q&A sessions. WWE stars also took the stage on Sunday for interviews and answering questions from fans. The charismatic WWE announcer Gene Okerlund appeared all three days along with former WWE wrestler Al Snow to meet with fans.
Fantasticon provided the gaming audience in attendance with a video game room filled with consoles both new and old. Retro consoles like the NES were used in fan tournaments throughout the weekend. Featured tournaments included Halo 4 and Mario Kart 8.
Stationed at a main entrance was the lovable Muppet Kermit the Frog. The green frog came to life at the talents of the puppeteer, a man who delivered an incredible replica of the Muppet's actual voice.
"Fantasticon is really — well, um fantastic!" Kermit said.
Famous characters like Spider Man and Doctor Who also made appearances through fans' costume depictions at the convention.
Along with the astonishing characters, vendors played a major role in the success of Fantasticon. The vendors used the convention as an opportunity to show off their work. Fans looked to purchase from vendors' hoardings of retro comic magazines, video game cartridges and even custom-made action figures. Select vendors sold their own hand-drawings of famous popular culture figures, ranging from the Joker to Packers' quarterback Aaron Rodgers.
Comedian Douglas Paszkiewicz presented his very own "Arsenic Lullaby," a comic book series based entirely off of dark humor. With a background in stand-up comedy and writing for MAD Magazine, Paszkiewicz prefers writing comic books to telling jokes onstage. He said comics make for more convenient methods of telling jokes.
"For comic books, I only write [jokes] once," Paszkiewicz said, "And several thousand people get to see them in different cities, instead of me going to different cities and repeating myself constantly."
For fanatics and vendors alike, Fantasticon drew in an audience from all over the world. Fans celebrated the achievements of the popular culture entertainment and discussed future projects in the comic industry. Last weekend, costumes, props and special guest stars helped make Milwaukee's Fantasticon a huge success among its guests. The convention looks to make an even bigger impact in the Milwaukee area next year.