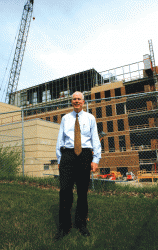 Marquette's vice president of planning Tom Ganey announced Thursday that he will be retiring from the university effective Oct. 31 after more than 20 years as as administrative leader at the school.
"The opportunity to learn from many talented students, faculty and staff at Marquette has been a rich and rewarding experience, exceeding my greatest expectations," Ganey said in a news release. "My family and I are truly grateful to be a part of the Marquette community."
Ganey first joined Marquette as a project manager in the Department of Facilities Services in 1993 and was named university architect in 2005. His position morphed into vice president of planning in 2013 during a restructuring of the university's administration.
During his time at the university, Ganey lead a campus improvement program that involved $350 million in expenditures, the construction of eight new buildings, 10 major facility renovations, and improvements to the campus grounds.
He and his wife Karen, who is also an architect, said they plan to continue their work together in Naples, Florida.
"While I wish I had the opportunity to work with Tom longer, I know I speak on behalf of our entire leadership team when I say how grateful we are for Tom's devotion to the university and his special appreciation for the students, faculty and staff during his past two decades of service," said University President Michael Lovell in the news release.
Lovell said the university's leadership team are evaluating the management structure for Marquette's planning projects and will share plans before Ganey's departure.
Story continues below advertisement