Lorde connects with fans, music at BMO Harris Pavilion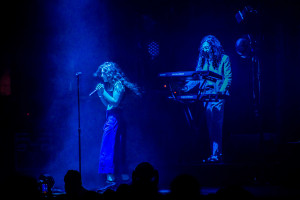 Artist and audience fell in love Friday evening as Lorde made her debut performance in Milwaukee at the BMO Harris Pavilion.
An eerie and odd opening from Majical Cloudz set a slightly bitter mood throughout the crowd. Depressing, sinister lyrics like, "Someone died/ Gunshot, right outside/ Your father, he's dead," sent a wave of unease through the pavilion. Lead singer Devon Welsh did not seem to have much stage experience either, or else he was just making his presence as awkward as possible to underline the abnormality of his band. By the time Welsh closed his set with an abrupt, "Bye. Goodnight," the audience seemed anxious to hear Lorde's familiar, rich vocals.
The 17-year-old goth pop star kicked off her show with blaring organ-synth sounds and a moving performance of "Glory and Gore." Deviating from her standard black apparel, a blue-clad Lorde cranked through her first few songs with enigmatic passion shown through her carefree dancing.
Although she looked to be shaking or convulsing to the heavy beats of her music, the young performer brought a sense of cohesion between her and the songs. Lorde sported an extensive set, equipped with huge framed video screens and lengthy color-changing LED panels. She was so in touch with her songs that she danced along perfectly to the dramatic light show and the demanding gothic vibrations of the bass. For a young artist, she had the more technical aspects of her show worked out. Lorde even managed to fit in three set/costume changes.
During her first scene switch, Lorde finished "400 Lux" with blaring sirens and dipped right into a cover of Kanye West's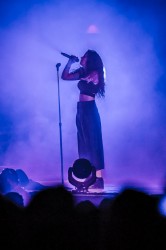 "Flashing Lights," complete with stunning white lights and an abundance of smoke-filled bubbles bouncing across the audience, an interesting addition to showcase Lorde's style.
In her final set, she accentuated her "Royals" persona, complete with a deep red get-up and gold crown. Above her hung a chandelier and a theater sign reading, "Tonight: the tragic and wonderful triumphal procession of Lorde," which brought to life her grungy, dark aura as she performed.
The most unique aspect of Lorde's show was her love for the place and the people to which she was performing. In between her songs, the New-Zealander talked about how beautiful she thought Milwaukee really was.
"Milwaukee, I like you already. I just like this place so much," the young singer said. "Lake Michigan is right there, no big deal. I knew you existed; I read about you in books, but I never though I would be here. You make it feel like home for me."
She made a further shout out to Wisconsin when she performed a lofty, ethereal cover of Eau Claire-native Bon Iver's "Heavenly Father," talking about her love for the song and her excitement to share it with the crowd.
Lorde also took the time to explain to her audience where she is from, giving the show a personal touch and engaging the audience even more. She talked about the small town she lived in her whole life and how it seemed so small to her now that she has seen the world on tour. She used her history as an introduction to her song, "Ribs."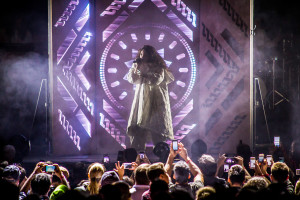 "For the first time, I felt like an adult," Lorde admitted. "Since then, I feel like I have been running away from growing up. When I wrote ("Ribs"), I made it sound warm and comforting and soft. I made it something I wanted to dance to. It's a song that really comforts me."
From there on out, the music seemed exactly as Lorde said, warm and cozy, like a blanket that wrapped the crowd with Lorde's lyrics and passion. As she ended her show with "World Alone," she threw in a small, beautifully chaotic freestyle that showed off her pure and rich vocals.
Milwaukee can look forward to another visit from Lorde in the near future. "We'll be back as soon as we can," she promised amidst her hair-flips and twirls. By the sounds of the crowd, she would certainly be welcome anytime.
Leave a Comment