Emerging band Cheerleader mixes rock edge, chill vocals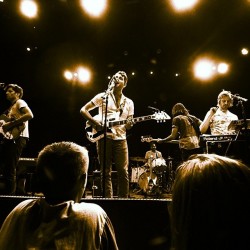 Up-and-coming indie haze-pop band Cheerleader might just be the musical anecdote to your day.
Band members Joe Haller and Chris Duran first created Cheerleader in Duran's parents' basement in Hartford, Conn. during the early 2000s. The duo was forced to take a hiatus from their music as college approached. Their determination and camaraderie kept the pair developing their music over holidays and school breaks.
Josh Pannepacker, Carl Bahner and Paul Impellizeri joined the band before Cheerleader began its most recent tour. The team is set to release its debut EP, "On Your Side,"  Oct. 7 and play a celebratory show in Milwaukee's own Club Garibaldi, located at 2501 S. Superior St.
The title track, "On Your Side," starts the EP off strong as the band conveys a story about the brightness and perseverance that hold the foundation to any young love. With memorable and relatable lyrics like, "I've been on your side all this time," Cheerleader strums along with shiny chords and snappy drums that keeps its audience replaying this song over and over again.
Hidden in the EP is the gem "Perfect Vision," another addicting song that sounds like it could be the opening to an '80s action movie. The easy rock attitude behind this song is an open invitation for anyone to get up and dance. The band skillfully laces "Perfect Vision's" positivity through the remainder of the EP, maintaining its pop, indie-rock edge.
Cheerleader's strongest point is its solid sound. It fits perfectly into an alternative indie-pop genre with the synthesizing streams and glimmering guitar that lead each track through to the finish. The focused and relaxed vocals make the EP easy to listen to during hard-core homework sessions or relaxed cruises down the highway with the windows down. Fans of Bleachers, Magic Man and Smallpools will likely appreciate Cheerleader's similar sound.
Serious talent is obvious through the band's work, but the tempo of each track makes it seem like Cheerleader does not know how to slow it down. The EP lacks any wind-down from the energetic choruses enumerated in the rest of the EP. While the name of their band insinuates plenty of peppy, fun songs, it would be interesting to see what more acoustic or slowed-down music these guys could produce.
These indie stars are sure to explode following their EP release. If you are aching to experience Cheerleader and its dazzling melodies, the band will be playing on Oct. 3 at Club Garibaldi, playing a set with bands Colony House and Knox Hamilton at 9 p.m. Cheerleader's "On Your Side EP" is available for pre-order on iTunes.
Leave a Comment