Marquette alum Rondell Sheridan spoke to students last Thursday night to inform them how to make the most of their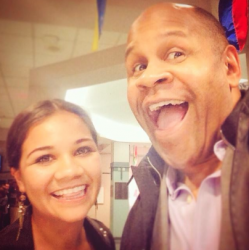 time on campus before graduation and how to have a successful career after leaving the university. Before his speech, Sheridan sat down with the Marquette Wire to discuss his life as an undergrad and his career in television.
Marquette Wire: What's it like to be back on campus, and do you get to come here very often?
Rondell Sheridan: I was on the National Alumni Board of Directors for the last four years, so I've been back three times a year for the last four years.
MW: Since you were an undergraduate student, has the university changed physically?
RS: Oh yeah, big time. There's more new buildings, the diversity of the city. Things have greatly changed. I got to see it in baby steps. I think I was away from the university for about 20 years before the first time I came back. There's buildings I don't recognize. I got the chance to go to the new engineering building, which is really great, and the new sports facility where they have basketball practice and the volleyball games. So that was very new and very nice.
MW: Which dorms did you live in as an undergraduate student?
RS: McCormick was my freshman year, and Schroeder was my sophomore year. West Hall doesn't exist here anymore, but I think it used to be a Holiday Inn in the 20s, the street, not the year. Then I went to Carpenter, then I was an RA at Schroeder and then I was an RA in West Hall.
MW: Could you share some of your most memorable stories while being an undergraduate at Marquette?
RS: Probably the best, I was a cheerleader my freshman year and we had won the national championship. We were in Atlanta and we took the bus back from Atlanta to Milwaukee, so I missed the city being torn apart when we won. But we had a pep rally when we got back, and that was probably, yeah, I've got to say, nothing beats winning a national championship. To be a part of that was really cool.
MW: Most of the students here recognize you as Victor Baxter, the father in "That's So Raven," because we grew up with the show. Could you talk about working on the set and what it was like working with the cast?
RS: Well, I get asked this question a lot, and I have to turn back to the way Raven answers the question about being on "The Cosby Show." She always starts with, when you were three years old, what memories did you have? And most people have blank faces because they go, "Wow, I really don't have memories from when I was three." So it was an odd situation for me. I've starred in TV shows before, I've been in many TV shows before. This was an unusual situation as an adult, because I was on a television show I did not watch. I did not watch Disney Channel. To this day, I do not watch Disney Channel. Out of hundreds of the episodes, I've probably seen 30 of the episodes. So my stories are more about their parents and with the crew. I was around 40, so I didn't really hang around 12-year-old kids. It was a completely different thing, and it was also that show was such an enigma. It was huge for a market that I did not (know about). It's like if you went to another country and were on a famous TV show, and then you came back to the States and the people in the States would go, "Oh yeah, we don't know that TV show. " So my circle, my group of people I hung out with were all adults, so they would go, "You're on that thing." So it didn't affect my life work-wise, but it affected my life greatly outside of work. Whenever I would go somewhere, it was a big deal, and it was so weird  because to me it wasn't that big of a deal. If it was "CSI" or Syfy channel then I would go, "Oh yeah, that was great." But it was a great opportunity, and it was great to be caught up in something of a show that big. I can only imagine being on a number 10 show. I can't imagine what that can be like, but it was a great experience. It was fun.
MW: Do you remember the first time you were recognized in a crowd or while doing everyday things like getting groceries?
RS: That's complicated because you have to keep in mind that the very first time (this happened) I was in Milwaukee at Marquette. So being a cheerleader you were always on national television. I would be someplace where there would be no Marquette students, and there would be regular people going, "Hey, you're a cheerleader at Marquette." So from there, in New York, doing the standup comedy thing and off-Broadway shows, I would get people who recognized me from that. And I also had a life before "Raven." Norm Nixon, growing up I was a huge Laker fan, and there was a time where I say Norm Nixon and he turned and said Rondell Sheridan, and that blew me away. So those little moments where other celebrities go, "Oh that's such and such," and they know who you are, that's always a surprise.
MW: What advice would you give current undergrads at Marquette to help them become successful in the future?
RS: Take advantage of the university to figure out what you either like or don't like, to figure out what you're good at and what you're not good at. Start thinking about what you want to do with the rest of your life, and try to figure out those goals. Try to get the things that you do with your time at Marquette to try to get yourself focused on that track.