There are many ways to tell a story. Some share it through word of mouth or write it down on paper. Others draw it on skin.
Each tattoo comes with a story whether or not it was thoroughly planned or magically appeared after one crazy, intoxicating night. What may seem like an ordinary rose or a set of letters to a bystander can have a completely different meaning for the tattoo owner.
These are only some of the interesting and personal tattoo stories around campus.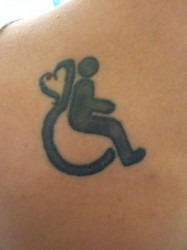 Bill Wantuck, a senior in the College of Arts and Sciences
Ever since Wantuck was 17, he wanted to get a tattoo inspired by his drawing for an art class during his junior year of high school. He finally turned his dream into reality last summer.
"The tattoo on my side is my initials, my father's initials and my grandfather's initials," Wantuck said. "It's really important to me because we all share the same name, and it's a familial thing."
Along with the tat on his side, another tattoo he got in February of 2011 is personal as well. On his shoulder is the handicap sign with a heart, which was inspired by a girl he saw in a wheelchair with the trademark sign on her own shoulder, as well as his own struggle with cerebral palsy. Wanting to make it his own, Wantuck moved the heart to the top to make the design different.
"It's a part of me, and it shows who I am," he said.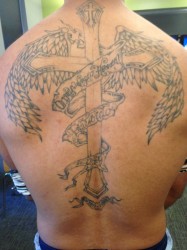 Juan Chacon, a junior in the College of Arts and Sciences
In 2012, when Chacon was 18, he got a tattoo he designed himself in memory of his uncle Eduardo.
"I wanted to do it because it's a memorial piece for my uncle, who was very close to me," Chacon said. "He was probably one of the two father figures that I had and inspired me to be the person I am now."
Chacon sadly did not get the chance to say goodbye to his uncle before his death, and he said the tattoo is his way of remembering him. Written on the banner that streams across the cross are the words, "On my way to heaven."
"He was very religious, and it's kinda ironic because I'm not, and I got a big cross with angel wings across my back," Chacon joked. "(The tattoo) symbolizes him and the wings symbolize him going to heaven and me saying goodbye to him in that way."
Originally, Chacon wanted to have his tattoo on his chest by his heart. However, he ended up getting it done on his back so the detail in the design wouldn't be confined to a small area.
His family was not thrilled to hear the news about his tattoo, but eventually decided it was his body and he could do whatever he wanted to it. Chacon said his best friend's dad, David Flores, created his tattoo. He chose Flores because he trusts him and admires his work.
"When you're getting a tattoo, you get kinda close with that person because you're sitting and laying there for X amount of hours," Chacon said. "I just felt more comfortable with his dad."
Before he makes any future tattoo plans, Chacon said he needs to finish his first one. His cross tattoo has 15 hours of work done, and he plans to add light and dark colors for shading.
Someday, he hopes to get a half-sleeve started of a tiger tied up in chains climbing over a mountain, symbolizing his path through life and how even though obstacles come his way to tear him down, he will always try to come back up.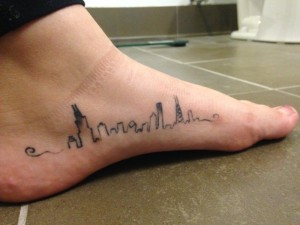 Tesia Wyszomirski, a junior in the College of Health Sciences
This past summer, Wyszomirski knew she wanted the tattoo and fell in love with the design she found on Pinterest.
"I just really love Chicago and always want to live there," Wyszomirski said.
Although it is rumored that the foot is one of the most painful spots to get a tattoo, Wyszomirski said she wanted it there anyway.
"I thought it would be a cool spot because of the arch of the foot would really show off the skyline," she said.
She later recalled that it was the most painful tattoo compared to her other ones on her body. Wyszomirski said there was supposed to be more shading on the design, but she had to tap out due to the pain.
While she is not looking forward to getting her tattoo touched up on her foot, she plans to get another one while she is in the parlor.
Stephan Kakos, a sophomore in in the College of Arts and Sciences
Kakos got a tattoo inspired by his Greek family roots on his right shoulder last summer. His name in Greek, Stavros, means "cross." So he got the Greek cross with the Greek flag in the background.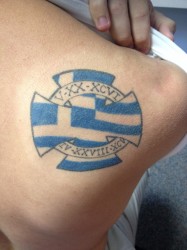 "Coming from a traditional Greek family, we are very close," Kakos said. "So the Roman numerals are me and my brother's birthdays, and the band represents us being connected forever. We are so close, he even decided to come to Marquette! He is a freshman this year."
Erica Rodriguez, a junior in the College of Nursing
Rodriguez strategically planned out the timing of her tattoo so her parents wouldn't find out. The day before moving into her dorm freshman year, she and her sister got matching family tattoos.
"I got it secretly with my sister, and it was our first tattoo together," Rodriguez said. "So we decided to wing it."
The floral tattoo on her foot depicts three flowers, each with its own special meaning.
"One is my favorite flower, the daffodil," she said, "the second flower is the calla lily, which is my sister's favorite flower and then the third flower is a rose for my mom's favorite flower."
Despite her efforts to keep her ink hidden, her parents ended up finding out later that year.
"Both my parents found out at the same time," Rodriguez said. "They found out at New Year's because my shoe fell off while I was playing with my nephew, and they were like, 'What is that?'"
As expected, her parents were not ecstatic about the tattoo, even with her family incorporated into the design.
"They gave me this stern five-minute lecture about it," Rodriguez said. "They were like, 'Why did you do it? You're so dumb. You're not going to be able to take it off,' and then after that, I never heard anything else about it."
As for future tats, she said she would like to get another one, but does not know what image or words she would like.
"I want it to have meaning," Rodriguez said. "I don't just want a random one."