Best and worst of the season's Amazon TV pilots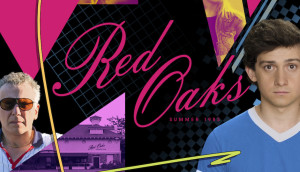 Renouncing the long-held tradition of reviewing new television show pilots in-house, Amazon makes the pilot selection process more interactive than ever. Typically, television pilot episodes are used to "sell" a never-before-seen show to a network, who will then decide to either pass on it or order more episodes. Amazon kicked off its third pilot season August 28, releasing pilots for five new shows, "Hysteria," "Hand of God," "Red Oaks," "The Cosmopolitans" and "Really." All are free to watch on its website.  To choose which ones are picked up for a full season, Amazon gauges audience reaction through views, reviews, ratings and surveys throughout the entire month of September before making executive decisions about the shows. It is difficult to judge a show based solely on its first episode, but with that in mind, here are Marquee's picks for the best, the worst and the one with the most potential to improve among Amazon's new pilots.
Worst:
It is always more fun to have a lot of great shows to choose from rather than not-so-great ones. The one that fell the flattest, though, was "The Cosmopolitans," a half-hour comedy about a group of young expat Americans "searching for love in Paris." But even the starring role from Adam Brody and the guest appearance from Chloe Sevigny were not enough to make up for the air of pretentiousness and self-importance that came while watching a group of privileged young men traipse through the streets of Paris and the adorned halls of mansions, complaining about how desolate their love lives are.
Never mind that in a half-hour, the amount we can glean about who these characters are (other than which Parisian divorcee they have their eye on) is sparse at best. Because the show does not set up any kind of stakes in the lives of these characters, it seems to be celebrating their frivolous lives without reservations, making them difficult to connect with or even have a good-natured laugh at.
Most Potential:
If I was not absolutely and completely over the idea of another patriarchal-figure anti-hero story, I would probably give this to "Hand of God." But because I do not think there can be anything interesting done with that trope anymore, my pick for the show with most potential is "Hysteria," a drama about a doctor who goes back to her hometown – the place of her troubled childhood –when a mysterious disease begins spreading through it. The show suffers mainly from identity issues and too many loose threads. The plotline about the disease spreading through technology was not fully developed enough in the first episode to seem anything other than ridiculous. There was a continual use of vague warnings and insinuations that were supposed to heighten the tension but, for the most part, fell flat.
Mena Suvari ("American Beauty") as Logan Harlen was engaging and one of the more interesting characters I saw while watching these pilots. Her backstory with her brother and the death of her best friend, while maybe slightly contrived, was easily the most attention-grabbing aspect of the show. If the show can focus less on threads like the teenage girl's affair with the married cop and more on Suvari's character and work to develop the direction they want to take the "mysterious disease" story, the show will be much less scattered.
Best:
"Red Oaks," produced by Steven Soderbergh, was the clear standout in the bunch. A period comedy set at a country club in 1985, it features Craig Roberts ("Submarine") as a teenage tennis pro who is working at the club during his summer before going off to college. Despite being set before most current Marquette students were born, the show is probably the most relevant to us as college kids through the examination of emotions and relationships during that period in a person's life. Regardless of its relevance to young adults, the show is the most focused and fully-realized of all five pilots, melding vision and execution. The tone is consistent throughout, and the laughs it generates are genuine and contrasted nicely with the sprinkling of sincere and emotional moments. Out of all the pilots, "Red Oaks" was the only one that made me immediately want to watch the next episode.
Leave a Comment