New to Netflix: "Life Partners" brings realism to screen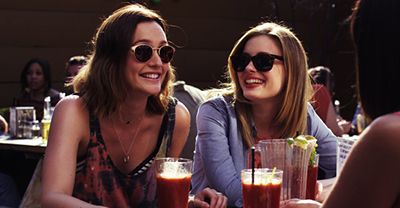 "Life Partners," one of the new movies streaming on Netflix this month, is quite the surprise. Knowing very little about the movie, I didn't expect much. It proved me wrong. Independent films often bring a certain realism to the screen, and this movie exemplifies this statement.
Sasha (Leighton Meester) and Paige (Gillian Jacobs) are best friends, inseparable from each other, even though they are polar opposites. Sasha is an inadequate receptionist with hopes of someday becoming a musician and getting her life on track. Paige is a top-notch lawyer with her career path laid out in front of her. However, they both start having one thing in common: loneliness. They've got each other, and that's all they've got.
The two often have girls nights, consisting of wine, television and the latest gossip. They are most interested in each others' dating lives. The two have dates scheduled for the night. Paige has a date with a dermatologist named Tim (Adam Brody) while Sasha schedules a blind date with another woman. Sasha is a lesbian and often tells Paige that she wants to find a woman who treats her like Paige does. Sasha spends a main part of the movie in pursuit of that woman.
Paige and Tim quickly begin to work out, and soon enough the two are going steady. On the other hand, Sasha's date night plummets, leaving her completely alone. Tim and Paige begin to consume each other's time completely, slowly eating away at the friendship that the two women share. Sasha's sense of isolation only worsens over time.
As the women draw closer to their thirties, their paths travel in opposite directions, bringing them further apart from each other. The entire movie is like a tree with a hundred different branches growing in a hundred different directions. It's not only a struggle for Sasha to keep Paige in her life, but a struggle for the characters to handle the idea of growing up.
"Life Partners" is indeed the story about two friends, but it mainly sheds light on the art of maturing. Sasha tells Paige on her 29th birthday, she wishes things were easier like they were at 21. The movie does an excellent job depicting the stresses that life throws at people during their pursuit of happiness.
Screenwriters Joni Lefkowitz and (Director) Susanna Fogel create a script that emphasizes the elements of reality. The movie becomes so real at times that we forget that we are just watching it on screen. The way Sasha and Paige communicate is carried out in a way that seems so incredibly natural, making us feel like we're eavesdropping on the local gossip. The scenes aren't as staged as Hollywood films, but capture the moments of everyday life.
The film is also unexpectedly clever. Tim often quotes lines from his favorite film, "The Big Lebowski." One scene shows him doing this while drinking a White Russian, Jeff Bridges's drink of choice in "The Big Lebowski." That same scene features Sasha subtly pouring herself another full glass of wine in the midst of third-wheeling with Tim and Paige. It would make for an interesting experiment to re-watch the movie, studying the characters who aren't speaking. Even the low-key facial expressions are enough to pick up on for a laugh or two.
However, the script, as strong as it is, lacks realism in Tim's character. The script was written by two women mainly creating dialogue for two women, so it emulates any natural conversation between women. Tim's lines do not seem quite as natural as the women's in the film. His lines don't necessarily capture the reality of conversation as everyone else's does, making for scenes that feel forced at times.
Putting that aside, "Life Partners" is quite the treat for the new wave of Netflix titles. It's a movie that depicts and understands human behavior in the midst of relationship struggles. Its highly relatable content makes for an interesting watch, and it's definitely worth a viewer's time.
★★★ out of 4