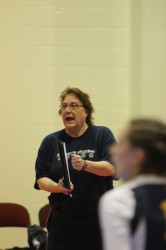 The Beginning of her volleyball love
Coach Pufahl can trace her passion for volleyball and sports in general to her older sister, Kathy. Before she was Marquette's coach, Anne wanted to do everything her older sister did. She decided to start playing and attending summer volleyball camps. Eventually, she achieved her goal of making the high school varsity team and played well enough to have a shot at college volleyball with the University of Wisconsin-La Crosse. In college, her team made college championship appearances every single season, with a fifth place national finish to boot. For her play in college, Pufahl is currently in the UW-La Crosse Athletics Hall of Fame.
After receiving her undergraduate degree in recreation administration, she enrolled in the master's program at University of Illinois-Chicago for intramural sports, eventually becoming the school's Director of Intramural Sports. After working five years at UIC, she applied and received the Director of Intramural Sports position at Marquette to the city where she grew up and to the university where she watched her father receive his master's degree in Psychology. After working for about 10 years at Marquette, she was approached by four students gauging her interest in becoming the women's club volleyball head coach. Her initial response was, "Why would I give up my time to coach for free a bunch of these club players?" At first, she was reluctant to take the job due to time constraints and, as Pufahl explains, "her cockiness".
A coach's inspiration
It is almost unfathomable to believe that at one point, Marquette's winningest club program may never have reached the heights it did with Coach Pufahl's guidance. After initially declining the coaching position, she reminisced about the story of her former friend and college roommate. Back when Pufahl was still in college, her roommate found a lump on her breast at the age of 19. Doctors told her not to worry about it, explaining that she was too young and blamed chocolate consumption as the cause. After being officially diagnosed with cancer three years later, her roommate had stage-4 breast cancer. According to breastcancer.org, Stage-4 breast cancer spreads beyond the breast and nearby lymph nodes to other parts of the body such as lungs, skin, bone, liver, or the brain. Her roommate went through two rounds of chemotherapy and a bone marrow transplant, but it was too late.
Her roommate died at the age of 25.
The death made Pufahl reevaluate her life and how she turned her back towards her first love of volleyball. She accepted the position and became the new women's club volleyball coach at Marquette. The story is told every October in one of the many "Closet 5 talks" to her team in correlation with Breast Cancer Awareness Month. "I always share this story so that, number one, they give themselves self breast exams and think about how it could impact them," said Pufahl. "I want to help these young women reach their potential." Over the next few years, Pufahl steadily realized that becoming the coach of the team was one of the best life decisions she has ever made. "Just having these young women come in and pay dues to play volleyball; they don't get any perks, but they inspire me," Pufahl said. "They saved me at a bad point in my life and I kind of helped save them bringing this club up to where it is today."
Her role at Marquette today
In addition to being the women's club volleyball coach, she also has a number of other jobs and has worked with many professionals in the sports world. A normal day brings her into the Marquette Recreation Center office around 7:30 in the morning, where she coordinates the schedules for all the rec teams on campus. The challenging schedule has about 300 different teams she needs to find fields and times for, while working in the club and varsity level teams on campus.
After leaving work around 4 p.m., she stops home to grab a bite to eat, then comes back on campus for two hours of referee training. Among the lesser known roles held, she is also on the board of directors with the Professional Association of Volleyball Officials (PAVO). She coordinates roles and critiques volleyball officials in three Division 1 conferences: the Big 12, the Summit and the Sun Belt. The role helped her get hired by the NCAA to be the secretary rules editor which, in simpler terms, allows her to write the rules for the whole sport of collegiate volleyball. "It's crazy because everyone asks me Monday morning with all the rules questions," said Pufahl. "'Hey we had an illegal jersey, what do we do?' I just had a rule on a jersey from Fairbanks, Alaska. It was illegal; now they know."
In these roles, she has also been able to work with people like Jarritt Elliot, the head coach of Texas women's volleyball and one of college volleyball's best coaches, and Erich Hinterstocker, the associate head coach of Marquette women's volleyball . In fact, Hinterstocker was Pufahl's first assistant coach with the team and became a professional coach because of Pufahl. Originally, his wife was a member on one of Pufahl's early teams and he was going to be a chiropractor. Hinterstocker filled in for Pufahl when she couldn't make a tournament and immediately knew he wanted to make a career switch. "At the end of that season, he said 'I don't want to be a chiropractor; I want to do this,'" said Pufahl. "I have a lot of connections in the volleyball world, and I started getting him going." As for becoming a college head coach herself, Pufahl does not see herself leading a varsity team anytime soon. She considered it when she was younger, but the day-to-day difficulties are an enormous challenge. "I respect every college coach," said Pufahl. "Having your life be determined by 18 to 22 year olds is tough. If they don't buy into what I'm selling, I could be out of a job in four years. I get to coach, but I don't have to coach every day, every night, scouting every day to watch players."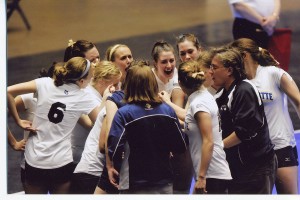 The number of wins continues to pile up for Pufahl's program. She has a 99-3 record during the last two seasons and her 17-straight national tournament teams have only finished lower than 10th one time in their existence with three titles in the last six seasons. In 2009, Pufahl even added a "B" team due to the extremely high number of applicants wanting to play. The team is the second best "B" team in the nation and made it to the championship game last season. Coming off back-to-back championships, Pufahl has already heard from many of her players who want to "three-peat". However the season schedule will once again be difficult. A bevy of teams will come from all across the country, including Virginia Tech making an appearance in Milwaukee this November. As the best team in the country, the Golden Eagles will once again have a big target on their back, but no matter which way the results may go, Pufahl wants her players to be humble and live in the moment. "I think the one thing I keep telling my kids that the most important times are the best times of your life while they're happening," Pufahl said. "When you get older, you're going to look back and go 'Oh my gosh, I didn't realize it'".