MUSG looks to spend its money responsibly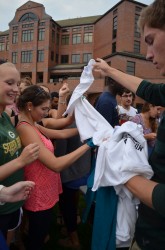 Marquette Student Government spent the summer trying to lower the largest total of its Prior Year Reserve Fund in the history of the organization, according to MUSG President Kyle Whelton.
Whelton said the program boards severely underspent their budget, leaving a large surplus in the Reserve Fund. MUSG Program Vice President Ryan Twaddle estimated that the surplus left from last year's program budget totaled almost $30,000.
"We can allow that to go into the Reserve Fund, or we can make discretionary purchases that are going to directly benefit the students," Whelton said.
A variety of items were purchased using this money, including televisions for the Center for Leadership, Service and Involvement.
"We spent about $10,000 on water bottles, Frisbees, koozies, advertising and free movies at the varsity," MUSG Program Vice President Ryan Twaddle said in an email. However, not all of those purchases were for Marquette Mania week. Twaddle said that only $5,037.94 was spent on promotional items for mania week, and that the budget for those items came from the previous year's surplus.
While much of the merchandise was given away during the first week of school, Whelton said the organization bought items for future events too. "We bought magnets and other things so we could save those publicity funds for other events," Whelton said. "We also purchased the promotional MUSG tent for events."
Whelton and Twaddle both justified the purchases because they support the students. "We decided that it would be better to spend the money on things that we can give directly back to the students, rather then let that money go into reserve," Whelton said. 

Twaddle said the publicity purchases help promote MUSG programs. "A lot of the time our publicity used to be just fliers, so let's step up our game, let's stop planning great programs and not give any time to publicity," he said.
Whelton said the reason for the unusually large surplus was because anticipated programs were not planned. "What occurred is that there were a number of programs that were cancelled or just not planned," Whelton said. "It wasn't that these programs were lacking in financial support or didn't have access to the funds, they just simply didn't use them."
Twaddle said he plans to meet more closely with the program committees and move money to where it will be used to avoid under spending. Whelton added that MUSG is instituting a quarterly report system to monitor budget lines closer throughout the year. "We are going to monitor which lines are on track to meet the budget targets and which ones are going to underspend, then move that money so it can be better spent to serve students," Whelton said.
The financial integrity of MUSG, Whelton said, was one of his first priorities as president. "MUSG puts its ducks in a row when it comes to its finances. It is not OK to have years where we are severely under budget and be severely over budget in other areas."
Whelton added he hopes that a Reserve Fund as high as it has been will not happen in the future.
"It is my sincere hope that never again will MUSG have to face something like that again," Whelton said. "Going forward there is a lot of hope that we can avoid a situation like this again"